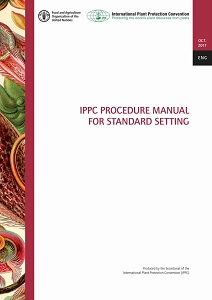 Posted below the current procedure manual and the relative annexes.
---
In 2012, the IPPC Secretariat decided to separate the IPPC Procedural Manual into standalone sections, especially since the standard setting section (Section 3) was changing more constantly than the other sections. The IPPC Procedural Manual for Standard Setting is presented on this web page.
The purpose of this manual is to provide a convenient consolidation of decisions, procedures, practices and forms used in the IPPC standard setting process. The 2018-2019 edition of the manual includes decisions and procedures made up to and including the May 2018 Standards Committee meeting and technical panel decisions made before the end of September 2018. The decisions and procedures described herein are subject to amendment by future revisions. The manual will be revised annually in September to include any new decisions and procedures and to amend existing decisions and procedures as necessary.
For the purpose of clarity, all official text, is in black font. Some procedures and decision of the Commission Bureau and Standards Committee are also are in black font, with details of their source noted. Text that is in blue font is for explanatory purposes only and should not be considered to be official decisions.
Publication history (outlining changes from last edition)
2017-2018 version:
Included change from "Regional workshops on draft ISPMs" to "IPPC regional workshops"
Updated the procedure for the Language Review Groups
Updated the roles and functions of regional plant protection organizations
Added a note on regional procedures for the submission of nominations to the Standards Committee
Added deadlines for posting papers for virtual meetings
Added information on calls for phytosanitary treatments to be posted on the Phytosanitary Resources page, on the TPPT reviewing and categorizing the submitted treatments
Modified the note on extending the scopes of irradiation treatments to other genera in the families
Modified the submission for phytosanitary treatments and added a submission form for treatments to be posted on the Phytosanitary Resources page
2018-2019 version:
Added information for CPs to use the new template for submitting objections to the adoption of ISPMs and included a link to the template on the IPP
Added a new figure (Figure 2) and updated the text to reflect the new process of the Call for Topics: Standards and Implementation. The submission form for topics in Annex 3 has also been updated
Updated information about the List of Topics to include the new database
Aligned the text for Criteria of Justification and Prioritization of proposed topics to what was adopted by CPM-13 (Appendix 8)
Updated the Terms of References and Rules of Procedures for the SC to include an observer from the IC
Updated the TPG section to include the new Guidelines for a consistent ISPM terminology
Publication history last updated: 2018-10
This web page was updated on 2018-10-15. For queries or comments regarding the contents of this page, please contact
Aoife.Cassin@fao.org
.