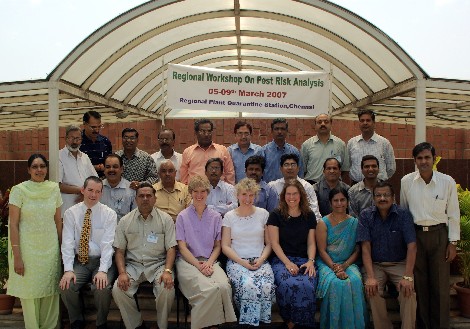 The International Advisory Group on Pest Risk Analysis (IAGPRA) is a small group composed of pest risk analysis (PRA) experts from around the world who work in PRA and are associated with a National Plant Protection Organisation (NPPO) or Regional Plant Protection Organisation (RPPO), together with representatives from the IPPC Secretariat and Convention on Biological Diversity (CBD) Secretariat. The aim of the IAGPRA is to help increase capacity in PRA internationally in line with the IPPC framework and to contribute to the continued development of PRA.
In 2007 the IAGPRA developed a PRA training course based on IPPC standards. The comprehensive course materials include:
a 150+ page participant's manual of explanatory and background text,
a 60 page booklet of practical exercises that participants use during the training course,
over 500 slides and speakers notes for use by instructors during formal presentations, and
a 30+ page instructor's manual that provides tips and guidance to those that teach the training course.
Support for the development of the training package was provided by the Standards Trade and Development Facility (STDF). The standard training course is five days long, but the generic course materials can readily be adapted to different audiences or time periods.
The focus for the Advisory Group has primarily been on the development and subsequent delivery of PRA training around the world. For example following the pilot course in Chennai, India in 2007, it has been delivered in many countries either in its entirety or in part. Some of the countries where it has been presented include: Canada, China, India, Jordan, Kenya, and Russia. The training material is freely available and can be viewed by following this link . If you would like more information on the course please contact ippc@fao.org.
Other functions of the IAGPRA include: Helping to develop capacity in PRA particularly through the oversight of the PRA training materials Providing expert advice on PRA to IPPC Secretariat including strategic direction Contributing to the continued development of PRA internationally and enhancing expertise and capacity to conduct PRA Encouraging national, regional and international liaison on PRA issues, contributing to the harmonisation of implementation of International Standards for Phytosanitary Measures (ISPMs) for PRA Providing a forum for the discussion and clarification of key issues related to PRA Encouraging networking of PRA specialists.
In addition, the IAGPRA has been involved in facilitating a coordinated approach between IPPC standards and risk assessments of living modified organisms (LMOs) for the Convention on Biological Diversity (CBD). Under the coordination of the IPPC, members of the IAGPRA have contributed to the peer reviewing of a training manual on risk assessment of LMOs developed by the CBD Secretariat. Information on the CBD and risk assessment of LMOs can be found at this link http://bch.cbd.int/protocol/cpb_art15.shtml .
The terms of reference, membership and contact information, and other relevant information on the advisory group are available below. Particpants of the pilot PRA training course in Chennai India, March 2007