Viewing tagged as: IPPC ePhyto Steering Group
Posted
on

Fri, 15 Jun 2018, 14:06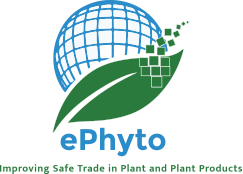 IPPC Contracting Party Contact Points have been sent a letter announcing that the IPPC ePhyto Hub is now open for business. Any Contracting Party/Country wishing to do so is now welcome to sign up and participate. Joining the Hub is not mandatory, but it offers the opportunity for countries with existing national electronic certification systems to exchange phytosanitary certificates electronically once any technical changes needed have been completed. Countries without national electronic certification systems of their own will be offered the opportunity to use the GeNS system once the pilot is completed and reviewed (expected by the end of ...
Tags: ePhytoIPPC ePhyto Steering Group
Continue reading…
Posted
on

Mon, 10 Oct 2016, 10:03

The IPPC Technical Committee Meeting on the ePhyto Project (PTC) was held at the offices of the Servicio Nacional de Sanidad y Cálidad Agroalimentaria de la República Argentina (SENASA) in La Plata, Argentina from 3-7 October 2016. The meeting, chaired by Mr Nico Horn, the chair of the ESG from the Netherlands, was attended by the members of the IPPC ePhyto Steering Group (ESG) as well as staff of the United Nations International Computing Centre (UNICC). Mr Shane Sela, the Project Manager for ePhyto, participated in the meeting on behalf of the IPPC Secretariat. The objective of the meeting was ...
Tags: ePhytoGeNSIPPC ePhyto Steering GroupESG
Continue reading…
Archives
2019 ( 175 )
2018 ( 174 )
2017 ( 225 )
2016 ( 200 )
2015 ( 88 )
2014 ( 49 )
2013 ( 84 )
2012 ( 35 )
2011 ( 31 )
2010 ( 32 )
2009 ( 11 )
2008 ( 6 )
2007 ( 4 )
2006 ( 3 )
2005 ( 6 )
2004 ( 2 )
2003 ( 1 )