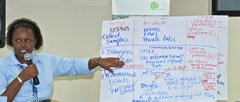 National Phytosanitary Capacity is defined as: "The ability of individuals, organizations and systems of a country to perform functions effectively and sustainably in order to protect plants and plant products from pests and to facilitate trade, in accordance with the IPPC".
Article IV of the IPPC provides the general provisions relating to the organizational arrangements for national plant protection for contracting parties to achieve the purpose of the IPPC, i.e. "securing common and effective action to prevent the spread and introduction of pests of plants and plant products, and to promote appropriate measures for their control".
Many things contribute to the sustainability of the performance of functions of a national plant protection organization. These include but are not limited to:
An enabling environment in countries such as policies which allow plant health activities to evolve and adapt to changing circumstance;
plant health regulations which empower NPPOs to function;
visibility and understanding of the IPPC;
understanding of the importance of implementation;
Viable business plan(s) for protecting plant health and trade;
National commitment to sustain phytosanitary capacity.
The aim of the IPPC implementation efforts is to facilitate and enable NPPOs to effectively and sustainable service the needs of their country in the protection of plants and plant products and the facilitation of trade. Achievement of this aim would result in:
All contracting parties implementing the ISPMs they need.
All contracting parties meet their obligations under the IPPC.
The IPPC reflects the goals of all its members.
Phytosanitary capacity of contracting parties able to evolve in response to changing circumstances
Phytosanitary issues embedded in policy
Effective regional cooperation.