حول أمانة الاتفاقية الدولية لوقاية النباتات
أنشأت منظمة الزراعة والأغذية للأمم المتحدة أمانة الاتفاقية الدولية لوقاية النباتات في عام 1992 تقديراً للأدوار المتزايدة للاتفاقية.
وتستضيف منظمة الأغذية والزراعة للأمم المتحدة امانة الاتفاقية في مقرها الرئيس في روما، إيطاليا. ويشمل الكادر الوظيفي لأمانة الاتفاقية حالياً الأمين، ومنسق وعدد من الموظفين المهنيين والموظفين الإداريين. وتستكمل الأمانة كادرها الوظيفي أيضاً عن طريق الأطراف المتعاقدة التي توفر موارد موظفين من خلال مساهمات مختلفة.
أمين الاتفاقية. هو السيد جينغ يوان شيا
تفاصيل الاتصال
International Plant Protection Convention Secretariat (IPPC)
Viale delle Terme di Caracalla
00153 Rome, Italy
Tel: +39-06-5705-3388
E-mail:
[email protected]
Structure of the IPPC Secretariat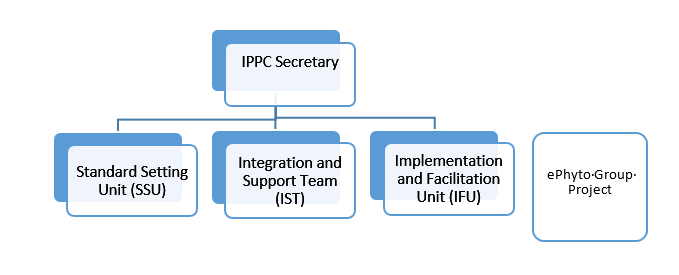 The Standards Setting Unit (SSU)
coordinates the processes for setting International Standards for Phytosanitary Measures (ISPMs) and Commission on phytosanitary measures (CPM) recommendations.
provides technical support for implementing the IPPC's strategic framework.
supports the Standards Committee (SC) and several expert subgroups that help develop standards.
The Implementation and Facilitation Unit (IFU)
coordinates the implementation of the IPPC, the ISPMs and adopted CPM Recommendations.
works with contracting parties to develop capacity in implementing the IPPC and its standards.
The Integration Support Team (IST)
supports the governance, technical, strategic planning, partnership, and communication and advocacy activities of the IPPC Secretariat.
organizes meetings the CPM, the CPM Bureau, and Strategic Planning Group (SPG) meetings.
maintains online tools such as the IPPC website, the National Reporting Obligations (NRO) platform, the Online Commenting System (OCS), etc.
supports IPPC activities related to emerging pests and other plant health issues.
ePhyto Project Group:
maintain the project schedule for global implementation of the IPPC ePhyto Solution
coordinate the work of ePhyto Steering Group (ESG)
liaise with project partners (UNICC, NPPOs, RPPOs and donors)
provide support (policy related, technical) to on boarding countries
show/hide Full list of Contacts