Technical Panel on Phytosanitary Treatments (TPPT)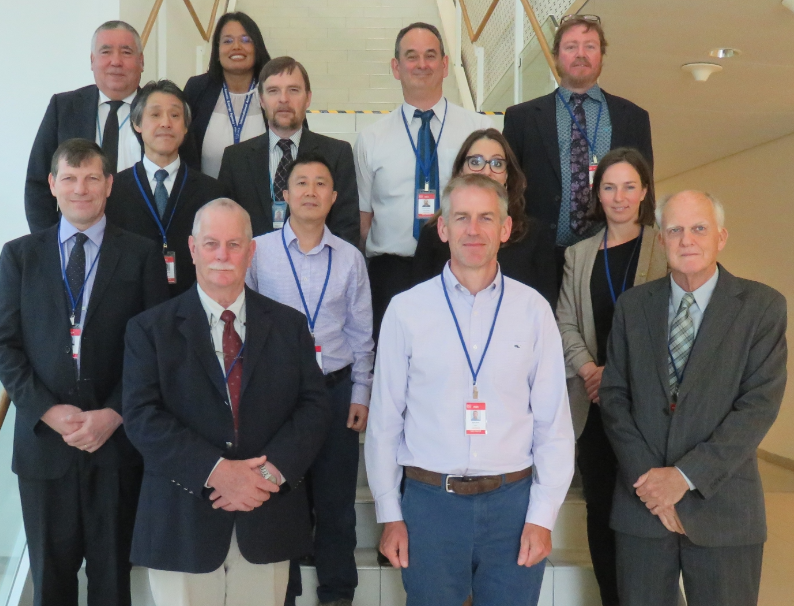 The Technical Panel on Phytosanitary Treatments (TPPT) evaluates data submissions from NPPOs and RPPOs and reviews, revises and develops phytosanitary treatments. The TPPT also provides guidance to the Standards Committee (SC) regarding specific phytosanitary treatment issues. The TPPT evaluates treatment submissions against requirements in ISPM 28 (Phytosanitary treatments for regulated pests). The tasks of the panel are outlined in Specification TP 3. The TPPT works under the guidance of, and reports to, the SC as mandated by the Commission on Phytosanitary Measures (CPM).
Currently, the TPPT is composed of eight members, a steward and assistant steward. The steward and assistant steward are representatives of the SC. The expertise of the members are: Irradiation, fumigation, temperature, modified atmosphere and chemical treatments. The TPPT membership list is posted below at this page.
The adopted phytosanitary treatments annexes to ISPM 28 are available on the IPP as well as the TPPT work programme.
The TPPT oversees the information on the Phytosanitary treatments online search tool, a tool that enables to search for phytosanitary treatments (IPPC adopted treatments and those available on the Phytosanitary Resources page) to enhance contracting parties' access to treatments used in international trade.
The TPPT also works closely with the other TPs, particularly the TP on Forest Quarantine (TPFQ) in developing guidance related to treatments on forest commodities.
Further information on the TPPT working procedures can be found in the IPPC Procedure Manual for standard setting. You can download a copy of the 2018-2019 IPPC Procedure Manual - Standard Setting by [clicking here].
The TPPT usually meets once a year and virtually as needed. For meetings dates, see the IPP calendar. The meetings reports are posted below at this page.
LATEST NEWS!

2019-09 Call for Experts: nominations for TPPT membership sought!
For more details, please visit: https://www.ippc.int/en/core-activities/standards-setting/calls-experts/
2017 Call for phytosanitary treatments
The International Plant Protection Convention (IPPC) Secretariat is soliciting submissions for:
Phytosanitary treatments to be adopted as international standards, as annexes to ISPM 28 (Phytosanitary treatments for regulated pests).

Phytosanitary treatments used in international trade, to be included in the PT online search tool.
The Technical Panel on Phytosanitary Treatments (TPPT) will review the submissions. As the TPPT meets in English, it is preferable to make the submissions in English.
You may make a submission at any time, but if you wish your submission to be considered by the TPPT in their next meeting in 2018, please send it before the 30 January 2020.
Submissions will be accepted from Contracting Parties or Regional Plant Protection Organizations (RPPOs). Submissions should be sent through the respective IPPC Official Contact Point.
More information at: Call for phytosanitary treatments
This webpage was last updated on 2019-07-17. For queries or comments regarding the contents of this page, please contact Ms Adriana G. Moreira at
[email protected]
.
إظهار/إخفاء القائمة الكاملة لنقاط الاتصال
| العنوان | Files | Publication date |
| --- | --- | --- |
| 2016-03 TPPT Virtual Meeting Report | En | 03 مايو 2016 |
| 2018-03 TPPT Virtual Meeting Report | En | 26 إبريل 2018 |
| 2016-09 TPPT Meeting Report (Tokyo, Japan) | En | 03 نوفمبر 2016 |
| 2017-10 TPPT Virtual Meeting Report | En | 07 فبراير 2018 |
| 2016-07 TPPT Virtual Meeting Report | En | 03 أغسطس 2016 |
| 2017-11 TPPT Virtual Meeting Report | En | 07 فبراير 2018 |
| 2017-04 TPPT Virtual Meeting Report | En | 05 يوليو 2017 |
| Update on activities of the TPPT (May 2015 to April 2016) - PowerPoint presentation | En | 16 مايو 2016 |
| Update on activities of the TPPT (May 2015 to April 2016) | En | 16 مايو 2016 |
| 2015-02 TPPT virtual meeting report (revised) | En | 02 أغسطس 2015 |
| 2018-01 TPPT Virtual Meeting Report | En | 01 مارس 2018 |
| 2014-04 TPPT virtual meeting report | En | 17 فبراير 2015 |
| 2013-06 TPPT Virtual Meeting Report | En | 06 فبراير 2014 |
| 2013-09 TPPT Virtual Meeting Report | En | 06 فبراير 2014 |
| 2013-07 TPPT meeting report | En | 25 فبراير 2014 |
| 2018-02 TPPT Virtual Meeting report | En | 13 مارس 2018 |
| 2014-01 TPPT virtual meeting report | En | 12 مارس 2014 |
| 2017-07 TPPT Meeting Report (Vienna, Austria) | En | 01 نوفمبر 2017 |
| 2016-10 TPPT Virtual Meeting Report | En | 14 مارس 2017 |
| 2016-12 TPPT Virtual Meeting Report | En | 15 مارس 2017 |
| 2013-04 TPPT Virtual Meeting Report | En | 18 يونيو 2013 |
| 2015-09 TPPT Meeting Report (Fukushima, Japan) | En | 11 ديسمبر 2015 |
| 2015-05 TPPT virtual meeting report | En | 03 أغسطس 2015 |
| 2004-12 TPPT Meeting Report (Raleigh, NC, USA) | En | 21 يونيو 2005 |
| 2005-08 TPPT Meeting Report (Stellenbosch, South Africa) | En | 06 مارس 2006 |
| 2006-12 TPPT Meeting Report (Vienna, Austria) | En | 08 مايو 2007 |
| Summary report of the Technical Panel on Phytosanitary Treatment's evaluation of irradiation treatments | En Es Fr Ar Zh | 23 أكتوبر 2007 |
| 2007-12 TPPT Meeting Report (Chiang Mai, Thailand) | En | 20 مارس 2008 |
| 2009-01 TPPT Meeting Report (Tokyo, Japan) | En | 21 إبريل 2009 |
| 2010-07 TPPT Meeting Report (Kyoto, Japan) | En | 09 فبراير 2012 |
| 2011-07 TPPT Virtual Meeting Report | En | 10 أغسطس 2011 |
| 2011-08 TPPT Virtual Meeting Report | En | 09 فبراير 2012 |
| 2011-10 TPPT Virtual Meeting Report | En | 09 فبراير 2012 |
| 2011-11 TPPT Virtual Meeting Report | En | 09 فبراير 2012 |
| 2011-12 TPPT Virtual Meeting Report | En | 09 فبراير 2012 |
| 2017-01 TPPT Virtual Meeting Report Report | En | 04 إبريل 2017 |
| 2012-02 TPPT Virtual Meeting Report | En | 18 إبريل 2012 |
| 2012-05 TPPT Virtual Meeting Report | En | 24 يوليو 2012 |
| 2014-09 TPPT virtual meeting report | En | 06 فبراير 2015 |
| 2012-09 TPPT Virtual Meeting Report | En | 15 يناير 2013 |
| 2013-02 TPPT Virtual Meeting Report Revised | En | 16 إبريل 2013 |
| 2012-12 TPPT Meeting Report (Nagoya, Japan) | En | 22 إبريل 2013 |
| 2015-12 TPPT Virtual Meeting Report | En | 05 يناير 2016 |
| | | |
| TPPT Treatment Research Guidelines | En | 20 ديسمبر 2018 |
| 2018-06 TPPT Meeting Report (Shenzhen, China) | En | 23 أكتوبر 2018 |
| 2014-06 TPPT Meeting Report (Bali, Indonesia) | En | 23 يوليو 2014 |
| IPPC Phytosanitary Treatments search tool | Link | |
| TP Phytosanitary Treatments Membership List | En | 10 فبراير 2020 |
| 2018-12 TPPT Virtual Meeting Report | En | 14 يناير 2019 |
| 2019-07 TPPT Meeting Report (Vienna, Austria) | En | 06 نوفمبر 2019 |
| 2019-02 TPPT Virtual Meeting report | En | 05 مارس 2019 |
| 2020-02 TPPT Virtual Meeting Report | En | 09 إبريل 2020 |
| 2020-02 Second TPPT Virtual Meeting Report | En | 14 مايو 2020 |
| 2020-03 TPPT Virtual Meeting Report | En | 01 يونيو 2020 |