Posted on إثنين, 06 نوفمبر 2017, 12:43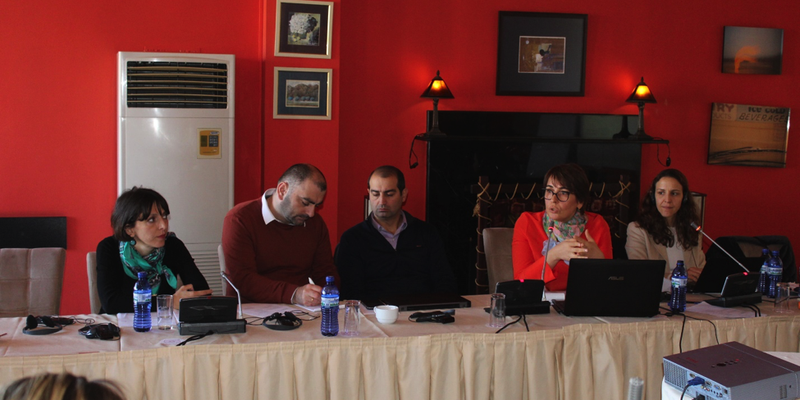 Georgian National Food Agency 2017. IPPC, FAO and Georgian National Food Agency staff convene to discuss the draft phytosanitary capacity development strategic plan.
The IPPC Secretariat s final Phytosanitary Capacity Evaluation (PCE) related mission was held from 15 - 21 October 2017 in Tbilisi Georgia. The purpose of the mission was to finalize the PCE application, to discuss the draft phytosanitary capacity development strategic plan, a legal review, legal recommendations, and to plan follow-up actions to implement the strategy. The overall purpose of the PCE application is to develop and implement a Phytosanitary Capacity Development Strategy for Georgia that will allow Georgia to prioritize its activities and resources to fill capacity gaps and enhance the overall phytosanitary system. The strategy would also serve as a basis for dialogue with donors of development aid and potentially improve access to future funding.
IPPC Implementation Facilitation Officer Ketevan Lomsadze and FAO Legal Officer Carmen Bullon met with the Georgian National Food Agency (NFA), PCE project staff and stakeholders involved in Georgia s PCE application to finalize the PCE application activities.
A consensus workshop and legal training was prepared and delivered by Ms. Lomsadze and Ms. Bullon. The consensus workshop served to achieve nation-wide consensus on the proposed draft national phytosanitary capacity development strategy, based on the outcomes of the applied 12 PCE modules. The workshop also aimed to present outcomes of the legal review conducted during the PCE application. A legal training session was conducted by Ms. Bullon and Ms. Lomsadze at the request of the Georgian NFA staff.
Ms. Lomsadze and Ms. Bullon met with international donors and project staff to discuss various elements of the draft strategy and specifically to discuss the actions required to facilitate the implementation of the strategy and legal recommendations. The meeting with Deputy Head of the NFA, Mr. Zurab Lipartia, Head of the Plant Protection Department, Mr. Nikoloz Meskhi, Deputy Head of the Plant Protection Department Mr. Otar Sxvitaridze, and Heads of the Plant Quarantine and Monitoring Divisions Mr. Bezhan Rexviasvili, and Mr. Lasha Nucubidze served the same goal. As a result, a number of actions were identified by the NFA staff.
The next steps in this process will involve following up on the actions identified and agreed to by senior NFA staff towards implementation of the strategy, legal recommendations and further collaboration with international donors.