Posted on إثنين, 15 إبريل 2019, 13:19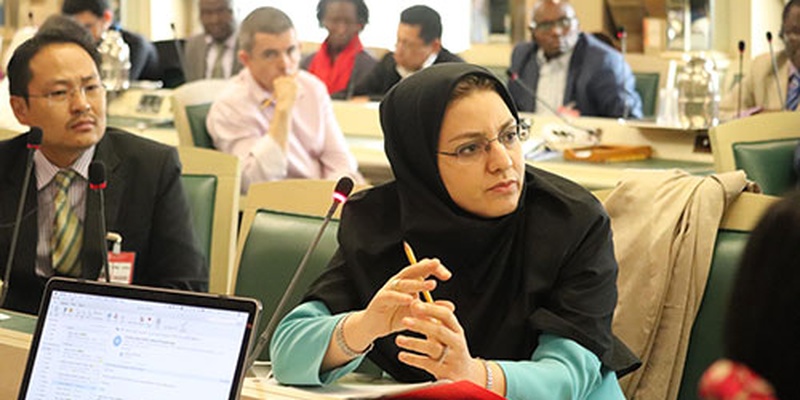 Participants at the CPM-14 side session Advanced technologies and information sharing: Key tools for prevention and management of emerging transboundary plant pests. © FAO
3 April 2019, Rome - With increased global trade, travels, agricultural intensification and climate change, the emergence of plant pests and disease outbreaks has been increasing. Plant pests and insects, such as locusts, Fall Armyworm (FAW) and Red Palm Weevil (RPW) can easily spread from one country to another, affecting crops and entire rural livelihoods. FAO and IPPC have therefore taken the lead to support countries in addressing these challenges.
During the Commission on Phytosanitary Measures (CPM-14) session, FAO s Plant Production and Protection division (AGP) and IPPC Secretariat organized a side session on advanced technologies and approaches for preventing and managing transboundary plant pests. Mr. Shoki Al-Dobai, the IPPC Secretariat Integration and Support Team Leader, explained how the IPPC and AGP are working together to assist FAO and IPPC member states to effectively and sustainably control plant pests. They use an integrated approach which includes implementing international standards to prevent pests from being introduced to controlling established pests through integrated pest management practices.
Mr Al-Dobai noted that the CPM-14 was a great opportunity to reinforce coordination with the FAO Plant protection regional and subregional officers and create a FAO Plant Health Team. This global team will help member states prevent the introduction and spread of plant pests and manage them more sustainably.
The Director of the AGP division, Mr Hans Dreyer, underlined that FAO and AGP have been promoting sustainable approaches to increasing crop production. Ms Annie Monard (FAO) then highlighted the negative effects insects and pests have had on food security and plant health.
Fall Armyworm (FAW) is one of the most devastating plant pests and is spreading quickly worldwide. Native to the Americas, in 2016 FAW was detected in Africa and is now spreading to Asia. Once established into a new territory, the pest is impossible to eradicate. In 2017, a network of experts met in Ghana to share knowledge on how to manage the FAW and build a new framework for partnerships. A resource mobilization campaign raised USD 21 million and many countries started to take quick action. Moreover, FAO has started to use digital technologies to develop new pest monitoring and management tools.
The FAW Monitoring and Early Warning System (FAMEWS) is one of these. Used for Fall Armyworm, FAMEWS consists of a mobile app for detecting and monitoring pests and a global platform for mapping data collected by the FAMEWS mobile app.
Another global threat for plant health and food security is the Red Palm Weevil (RPW). This pest is causing great damage especially in countries involved in the date palm industry. FAO has also developed specific tools to assist farmers in monitoring and managing the RPW. For example, SusaHamra is a user friendly and multilingual mobile app that can inform early warning systems, provide advice and play a role in decision making regarding the pest.
Plant diseases, such as the wheat rust and Fusarium wilt, respectively affecting wheat crops and banana production, are other emerging challenges. With almost 20 races, the wheat rust disease can reduce yield and quality significantly. To face this issue, FAO has developed a global programme together with universities and institutions. The FAO Turkey partnership program is supporting activities in Central Asia and North Africa.
Native to South America, Fusarium wilt is instead affecting Southeast Asia, Middle East and Mozambique. This soil borne disease has been identified as a major threat to bananas since it can cause 100 percent loss of banana production in two to three years once established on a farm.
The side session ended with this open question: how do we make the best use of new technology and information? and the renewed awareness that plant protection must be considered as a complex issue and a global public good.