Posted on أربعاء, 01 نوفمبر 2017, 10:53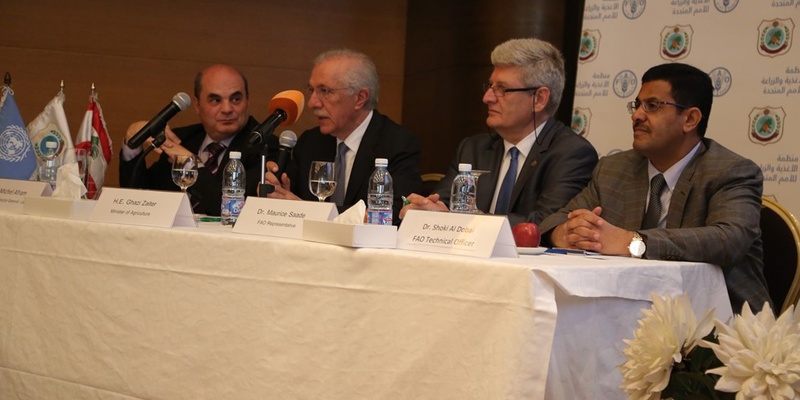 The wrap up workshop of the TCP/LEB/3502 project on Fruit Flies Surveillance and Management in Lebanon was held in Beirut on Friday 20th of October 2017. The workshop was officially opened by H.E. Lebanese Minister of Agriculture, Mr Ghazi Zaeter and FAO Representative to Lebanon, Mr Maurice Saade. IPPC Secretariat was represented at this workshop by the Integration and Support Team Leader and Project Lead Technical Officer, Mr Shoki Al-Dobai.
The project was launched in December 2014 to assist Lebanon in preparing and implementing a national programme for surveillance and management of fruit flies Lebanon, in addition, to develop the capacity of the National Plant Protection Organization, the Lebanese Agriculture Research Institute (LARI) and other partner agencies in fruit flies identification, management, eradication and enforcement of phytosanitary measures.
The project enabled an effective national coordination and partnering among all relevant Government authorities and stakeholders involved in fruit flies management and control, including, NGOs, Academia, Airport and Seaport Security, Customs, Lebanese Aviation Company, etc.
Around 100 national staff has been trained through the project by nine intentionally recognized experts on Fruit flies surveillance, identification, management, eradication, biotechnology aspects for identification and management of fruit flies, implementation of the relevant phytosanitary measures, phytosanitary treatments, Pest Risk Analysis, phytosanitary inspections. A Cost Benefit Analysis of Fruit Flies Management Strategies in Lebanon has been carried out at end of the project.
Around 2400 farmers have benefited from the field awareness raising seminars, in addition to awareness sessions to several stakeholders: Airport Authorities, Airline Companies, Airport Security, Fruit and Vegetable Traders, ..etc.
The project succeed to create a unique cooperation between the Ministry of Agriculture and Airport and Aviation Authorities that resulted in production of warning video to be played in the airplanes traveling to and from Lebanon, and warning signs and monitors permanently placed in different places at the Beirut Airport to help in eliminating the risk of movement of fresh fruits through passengers.
The wrap up workshop gathered representatives of all authorities and stakeholders involved to presents the outcomes of the project, and come-up with recommendations and follow up actions for sustainable programme for monitoring and management of invasive fruit flies.