Posted on جمعة, 21 ديسمبر 2018, 15:21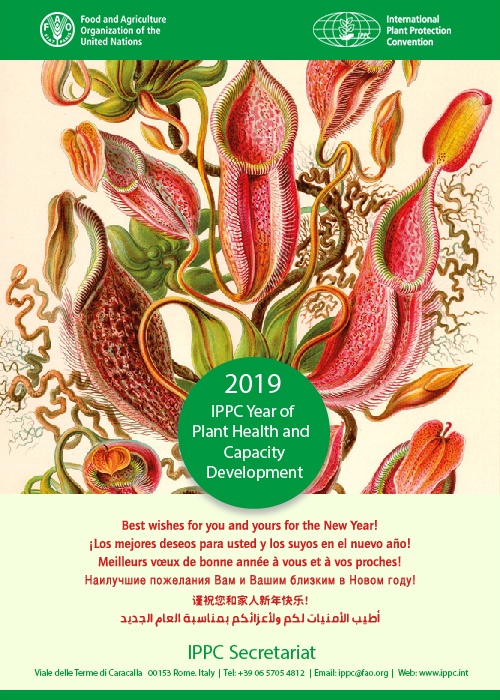 Dear colleagues,
On behalf of the entire IPPC Secretariat, I am pleased to convey my sincere greetings to you for the holiday season, and show my great appreciation for your strong support and positive contribution to the IPPC throughout 2018.
This has been a remarkable year for the IPPC, with much progress made on the IPPC annual theme of "Plant Health and Environmental Protection". Among the many achievements of this year, allow me to name a few:
1) A series of activities have been organized to disseminate the 2018 IPPC annual theme, resulting in increased cooperation with the Convention on Biological Diversity (CBD) and UN Environment among other partners.
2) The International Year of Plant Health (IYPH) in 2020 has been endorsed by the United Nations General Assembly.
3) The IPPC Focus Group on Commodity and Pathway Standards, and the IPPC Task Force on Calls for Topics have been established.
4) Five International Standards for Phytosanitary Measures (ISPMs) have been adopted, and seven IPPC Regional Workshops have been organized with presence of a record number of participants.
5) The application of the IPPC ePhyto Hub has begun, and the IPPC Generic ePhyto National Systems (GeNS) has been finalized for piloting.
6) The restructuring of the IPPC Secretariat based on its Enhancement Evaluation has been completed with its operational mechanism continuously optimized.
We believe 2019 will be another key year for the IPPC, as it will lead the plant health community towards celebrating the IYPH in 2020, with the annual theme "Plant Health and Capacity Development". We are confident that 2019 will be an even better year thanks to your continued support and dedication to boosting the delivery of the IPPC Work Programme.
Once again, I thank you all, and wish you a happy and very prosperous new year 2019.
Jingyuan Xia
IPPC Secretary
شارك على فيسبوك