Posted on جمعة, 19 إبريل 2019, 16:48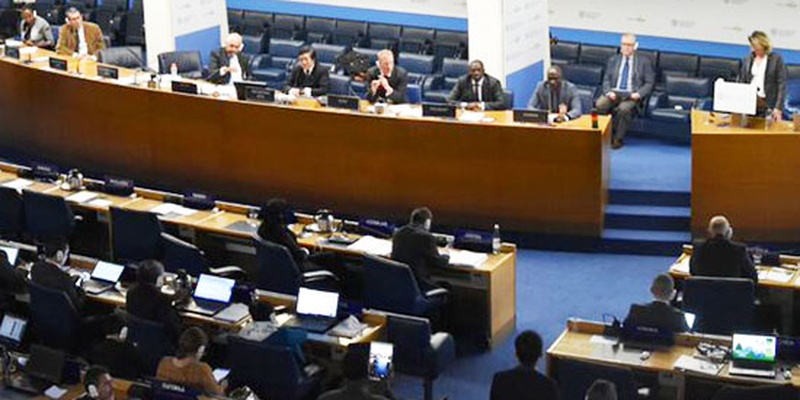 The CPM-14 special topic session on plant health and capacity development. © FAO
4 April 2019, Rome - The IPPC Community works together to ensure all countries have the capacity to implement phytosanitary measures. As 2019 is the IPPC Year of Plant Health and Capacity Development, a special topic session at the 14th Session of the Commission on Phytosanitary Measures (CPM-14) was dedicated to this theme.
The national phytosanitary capacity of a contracting party is defined as the ability of individuals, organizations and systems of a country to perform functions effectively and sustainably in order to protect plants and plant products from pests and to facilitate trade, in accordance with the IPPC. For the IPPC, capacity development is driven by countries, consistent with national priorities and the local context, and anchored in national systems and local expertise.
Mr Brent Larson, team leader of the Implementation and Facilitation Unit, IPPC Secretariat, gave an overview of how the IPPC Secretariat and partner organizations work together to develop plant health capacity. He noted that the Implementation and Capacity Development Committee provides oversight on these activities.
Mr Jingyuan Xia, IPPC Secretary, then gave a presentation on FAO South-South Cooperation (SSC) to Support Capacity Development in Agriculture. South-South Cooperation is a broad framework for fostering collaboration among developing countries. The IPPC Secretariat s global project under the framework of the FAO-China SSC Programme aims at strengthening the phytosanitary capacity of developing contracting parties to implement the Convention and related standards. Mr Xia showed how the FAO-China SSC including promotes food security and agriculture in participating countries by developing their capacity.
Phytosanitary Capacity Evaluations (PCE)
Phytosanitary Capacity Evaluations (PCE) brings together national stakeholders to help countries identify strengths and weaknesses in their phytosanitary systems. Countries can use this process to develop their own national phytosanitary capacity development strategy.
Ms Sarah Brunel, Implementation and Facilitation officer from the IPPC Secretariat, moderated the session which showed how PCEs have strengthened national plant protection organizations (NPPOs). She mentioned that more than 60 countries have conducted PCEs under the oversight of the IPPC Secretariat. She invited participants to consult the recently updated PCE page for more information: https://www.ippc.int/en/core-activities/capacity-development/phytosanitary-capacity-evaluation
Mr Mamadouba Camara, an agricultural engineer from the NPPO of Guinea, talked about his experience at a PCE in Guinea. The PCE allowed the country to identify gaps in its phytosanitary system; and develop a strategy and project to strengthen it. The project was then funded by the Standards and Trade Development Facility (STDF).
Mr Babacar Samb, Sanitary and Phytosanitary Measures (SPS) Specialist who worked at the Comité de Liaison Europe-Afrique-Caraïbes-Pacifique (COLEACP) talked about developing the project and strategic activities to strengthen the inspection and certification system in Guinea. He stressed the importance of a step by step approach involving different stakeholders in order to achieve strategic outcomes.
Mr Melvin Spreij, head of the Standards and Trade Development Facility (STDF) Secretariat, World Trade Organization (WTO) explained how a WTO training course led to a PCE in Guinea and to further financing of USD 800,000. He encouraged countries to apply the PCE to increase project funding. He stressed the importance of engaging stakeholders at the national level and encouraged everyone to read a guide Managing Relationships with Stakeholders developed by one of the STDF funded projects. The guide is available at: https://www.ippc.int/en/publications/86040/
Mr Robert L. Griffin from the North American Plant Protection Organization (NAPPO) gave a presentation entitled Phytosanitary Risk-Based Sampling: Next Steps. He highlighted that risk-based sampling is not obligatory for contracting parties under the terms of the Convention and the SPS agreement. However, it leads to better risk management since it allows countries to allocate limited resources to high risk areas. Related training materials are available, and a manual will soon be published, at: http://nappo.org/english/rbs-symposium-2017-report/
Find out more
All presentations are available at: https://www.ippc.int/en/core-activities/governance/cpm/scientific-sessions-during-commission-phytosanitary-measures/2019-plant-health-and-capacity-development/
A webcast is available at: http://www.fao.org/webcast/home/en/item/4972/icode/?lang=en&q=high
The IPPC National Phytosanitary Capacity Development Strategy: https://www.ippc.int/en/publications/76/