Posted on أربعاء, 03 مايو 2017, 09:25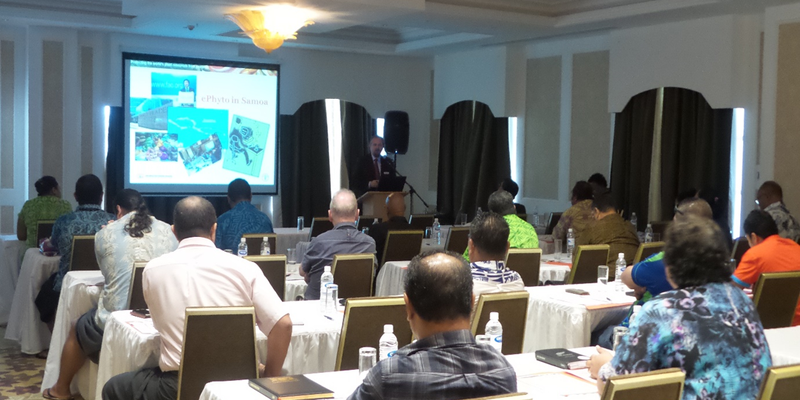 Peter Neimanis (Chair - ePhyto Steering Group) addressing the session
Mr. Peter Neimanis (Chair - ePhyto Steering Group (ESG) and Mr. Chin Karunaratne, Department of Agriculture and Water Resources, Australia met with officials of the Samoa Quarantine Service (SQS) from 1 to 8 April 2017 to discuss country implementation plans for the Generic ePhyto National System* (GeNS). The team also met the Chief Executive Officer of the Ministry of Agriculture and Fisheries, Samoa. The officials also visited the quarantine cargo clearance facility at the Faleolo International Airport and conducted an industry awareness session on ePhyto plans.
The objective of the visit was to discuss the specifications of the proposed ePhyto Solution and the future steps required for Samoa to implement the GeNS. This visit delivered the following outcomes: 1) Relationship building with the Ministry of Agriculture and Fisheries, Apia which will be beneficial for future work; 2) Detailed discussions of the specifications and proposed functions of GeNS in relation to the work flow of the Samoan Quarantine Service; 3) The industry awareness session discussed the operation of ePhyto and its relationship to industry activities related to plants and plant product exports with about fifty exporters and importers; and 4) Other discussions included Capacity building, training options and benefit assessment.
Samoa is one of the countries selected to pilot the GeNS component of the ePhyto Solution which is expected to commence in early 2018. Australia is working closely with Samoan Quarantine Officials and its senior management to assist them in undertaking the business changes required for implementing the GeNS. Establishing the GeNS in Samoa may also benefit other regional neighbours such as Fiji, the Solomon Islands, Tonga, Timor-Leste and the Asia Pacific region as Samoa may be able to provide guidance and advice to these countries as they move to implement electronic certification.
The quarantine service of Samoa and various stakeholders expressed strong interest for this project with Australia during the meetings and Invasive Alien Species (IAS) workshop. The selection of Samoa for this work will further benefit expansion of two way trade between Australia and other developing countries in the Pacific region in future.
Mr Tilafono David Hunter (Chief Executive Officer - Ministry of Agriculture and Fisheries) addressing the participants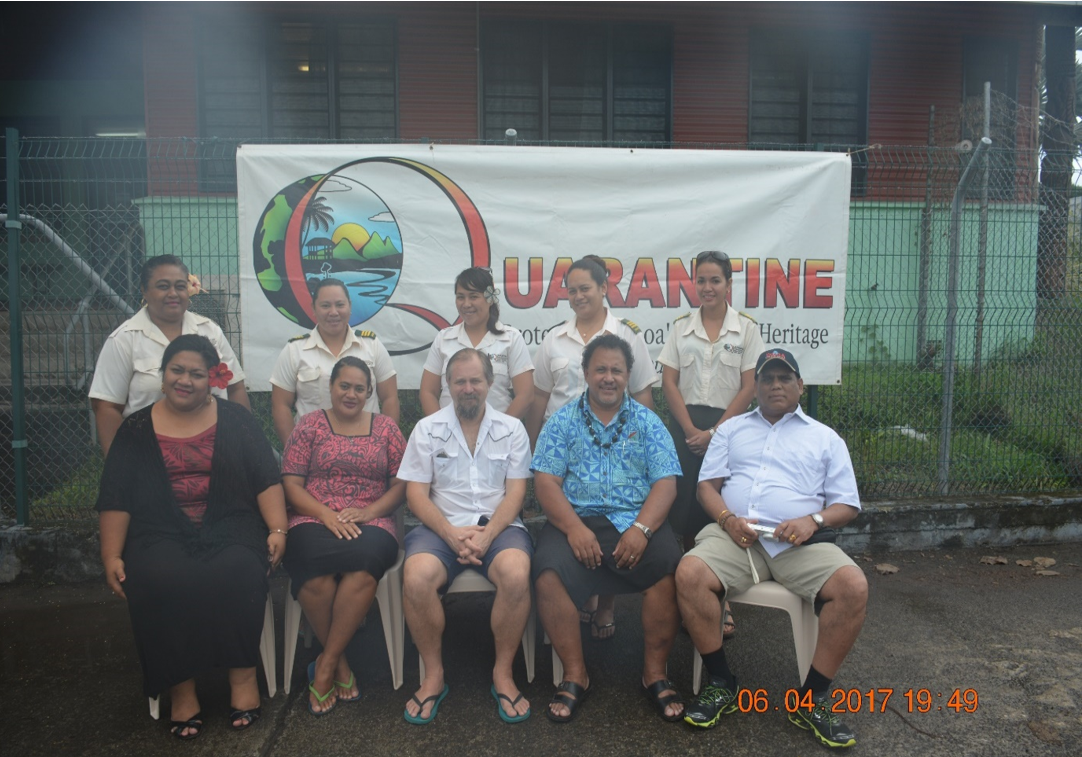 Project Management Team - Samoan Quarantine Service (SQS)
Front row (L to R): Viiga S. Filemu, Talei F. Moors, Peter Neimanis, Pelenato Fonoti, Chin Karunaratne
Back row (L to R): Tovine Wilson, Olive Jayto Alesana, Ferila Samuelu, Nafanua Malele, Jacqualine Adams
Absent: Sarai Tevita, Kitiona Tugaga