Posted on جمعة, 26 أغسطس 2011, 10:10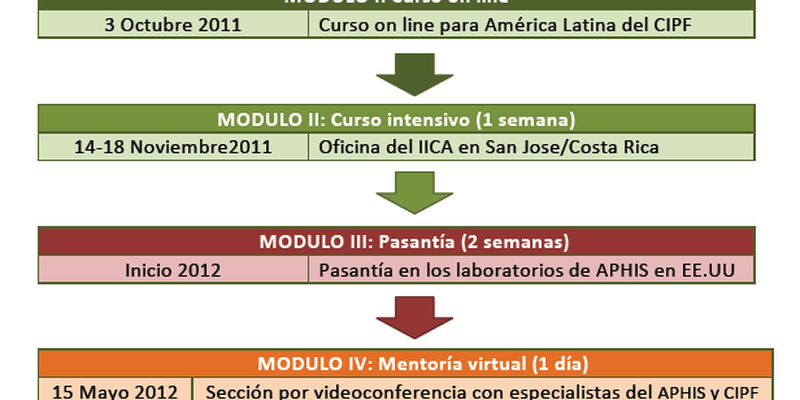 This Training Program is the result of a joint effort that has been first among several institutions to meet the growing demand from developing countries to strengthen their capacities to develop pest risk analysis (PRA).
Objective: The objective is to implement for the first time in the region a Regional Training on Pest Risk Analysis (PRA) focused on the needs of Latin America in order to strengthen the technical capacity to develop a secure ARP that countries are better able to: i) protect its territory against the entrance of pests, ii) meet the requirements related to ARP required by the importing markets, iii) properly implement the recommendations of the IPPC and the WTO.
Experts Who Teach The Course: The course will be given in Spanish by specialists from the International Plant Protection Convention (IPPC) and Plant Health Inspection Service and Animal Health, Department of Agriculture U.S.. UU. (Animal and Plant Health Inspection Service-APHIS). The program will also include technical support from the American Institute for Cooperation on Agriculture (IICA) and the Inter-American Development Bank (IDB).
Public: The following program is geared towards the public: i) officials of the national plant protection organizations of the countries of Central America, Dominican Republic and Mexico, and ii) phytosanitary issues teachers in educational institutes specializing in agriculture in these countries.
Selection of Participants: The module I (online course) is open to any interested participant. For Module II (Classroom course of 1 week) 2 participants among those who have successfully completed Module I will be selected for each recipient country. 1 participant from the group that completed Module II will be selected from each country to do the internship at the Risk Analysis Laboratory USDA-APHIS in the United States.
See the attached PDF and this webpage (both currently in only available in Spanish) for more information.