Posted on خميس, 14 إبريل 2016, 09:41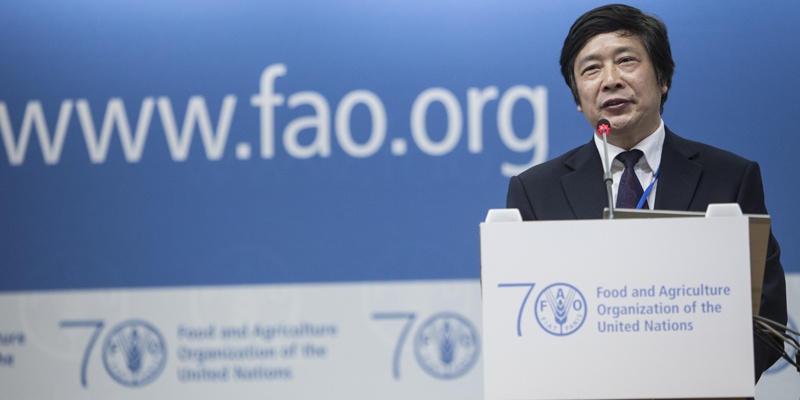 The Eleventh Session of the Commission of Phytosanitary Measures (CPM 11) was successfully held from 4-8 April 2016, in FAO-HQ, Rome, Italy. The CPM 11 was the first meeting for the International Plant Protection Convention (IPPC) towards the next five years (2016-2020). At the opening section of CPM 11, Mr Jingyuan Xia, the IPPC Secretary, made a presentation on the IPPC towards 2020.
The Secretary Xia recalled four developmental stages of the IPPC: the first stage (1881-1951); the second stage (1952 - 1979); the third stage (1980 - 1997); and the fourth stage (1998 - present). He highlighted five key achievements during the past 60 years: 1) establishment of a fairly complete system for the IPPC Governing Bodies and the relevant operational mechanisms; 2) adoption of 36 International Standards for Phytosanitary Measures (ISPMs); 3) promotion of the IPPC implementation through strengthening of capacity development, implementation Review and Support System (IRSS) and Phytosanitary Capacity Evaluation (PCE); 4) increase in Communication and partnership through enhancement of National Reporting Obligations (NROs) and international cooperation; and 5) extension of new technologies and tools, such as information technologies, biotechnologies and e-Phyto.
The Secretary Xia explained five increased challenges and opportunities faced by the IPPC: 1) fulfillment of the IPPC s Strategic Goals (2012-2019); 2) increase in demands from Contracting Parties (CPs); 3) implementation of the Enhancement Evaluation to the IPPC Secretariat (2014); 4) work with FAO Strategic Objectives (SO2 and SO4); and 5) contribution to UN Sustainable Development Goals, especially SDG 2 (food security), 13 (climate change), 15 (biodiversity) and 17 (trade facilitation). In terms of the way towards 2020, the Secretary Xia highlighted three elements: 1) target one general goal to increase overall capacity of CPs and the IPPC Secretariat for implementation of the IPPC; 2) take three actions, the Standard Setting, Implementation Facilitation, and Communication & Partnership; and will work with five IPPC themes, Plant Health and Food Security for 2016, Plant Health and Trade Facilitation for 2017, Plant Health and Environmental Protection for 2018, Plant Health and Capacity Development for 2019, and International Year of Plant Health (IYPH) in 2020.
Finally, the Secretary Xia presented his perspective for the IPPC Beyond 2020, by initializing strategic planning of the IPPC in 2020-2030. This will build on the IYPH 2020, taking the IPPC and its CPs on pathway to greater influence and impact the prevention of the global spread of pest of plants. The specific focus of the next strategic framework should be related to four IPPC-contributed SDGs. The IPPC should strive to achieve these goals through the development of standards to facilitate trade, protect agriculture and the environment as well as develop the capacity of CPs to implement those standards.