Viewing tagged as: CABI
Posted
on

جمعة, 23 أكتوبر 2015, 14:18

التقى وفد من الاتفاقية الدولية لوفاية النباتات ترأسه السيدJingyuan Xia ، أمين الاتفاقية مع وفد من كبار مسؤولي مكتب الكومنولث الزراعي الدولي ترأسه الرئيس التنفيذي للمكتبTrevor Nicholls وذلك يوم الخميس 22 تشرين أول/أكتوبر. وصاغ الطرفان خلال الاجتماع خطاب نوايا مع بعض الأهداف المحددة للمستقبل، والذي، يتعيَّن؛ بعد مراجعته ووضع اللمسات الأخيرة عليه، أن يضع الأساس لبرنامج العمل المستقبلي الهادف إلى تعزيز الوعي لدى كلتا المنظمتين وأهمية الصحة النباتية والحماية. وتأمل المنظمتان، من بين أمور أخرى، المشاركة في ورشة العمل المشتركة Plantwise / الاتفاقية والتعاون على ترويج السنة الدولية للصحة النباتية.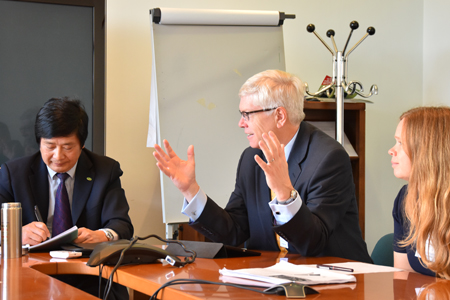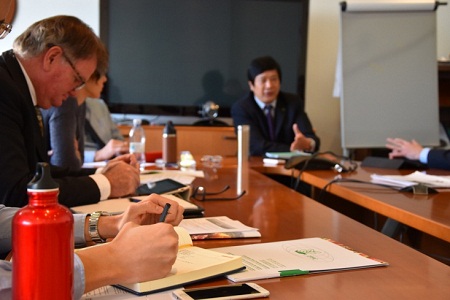 وسوم: IPPCCABI
Continue reading…
Posted
on

جمعة, 22 نوفمبر 2013, 16:47

This past week, the Technical Working Group (TWG) between the IPPC Secretariat and CABI, including its Plantwise programme, met at FAO Headquarters in Rome to review the progress made since they convened last January to identify the areas of common interest and possible joint activities in the future. Given the different but complementary nature of IPPC and CABI activities, the TWG intends to explore how they can best synergize their respective missions while also improving understanding and building capacity amongst IPPC contracting parties and CABI member countries on areas of mutual interest. Discussions during the two-day meeting aimed to highlight ...
وسوم: CABIIPPC
Continue reading…
Posted
on

خميس, 05 سبتمبر 2013, 20:42

In recent efforts to improve collaboration on joint activities, the IPPC and CABI Plantwise have agreed to initiate secondments between their organizations to increase transparency and effectiveness. The IPPC Secretariat at FAO Headquarters in Rome welcomes Ms. Katherine Cameron, Knowledge Bank Development Manager for Plantwise, to assist in the guidance and approval of a joint work plan that will further implement these efforts.
David Nowell, the lead for the IPPC's efforts on national reporting obligations, considers that this is the beginning of a more beneficial working arrangement for both parties. "I can see a lot of potential on the ...
وسوم: IPPCCABICooperation
Continue reading…
Posted
on

أربعاء, 13 فبراير 2013, 19:22

Fruits

On Monday 22 January, senior representatives from the IPPC Secretariat and the Commonwealth Agricultural Bureau International (CABI) met to discuss their working relationship and establish contact points, as their work programmes include many common interests in the areas of policy, standard setting and capacity development. The roundtable meeting touched on issues of pest listing, pest reporting, enhancing awareness, and a list of action points was developed. The meeting took place in a productive atmosphere and yielding positive results. Both parties anticipate a follow-up meeting in the near future.

وسوم: CABI
Continue reading…