Viewing tagged as: ePhyto
Posted
on

إثنين, 01 يوليو 2019, 12:04
The IPPC Secretariat is proud to announce that on July 15th the Generic National System component of the IPPC ePhyto Solution will go live! This means that countries without their own national electronic certification system who wish to join the IPPC ePhyto Solution can begin their registration process and once fully prepared, can join the IPPC ePhyto Solution through the use of the GeNS. The GeNS is a centralized web- based system that any country without their own electronic certification system can use to connect to the ePhyto Hub in order to produce, send and receive ePhytos. The IPPC Secretariat ...
وسوم: ePhyto
Continue reading…
Posted
on

إثنين, 24 يونيو 2019, 09:26

How can digitising the phytosanitary certification process help to enhance food security? Craig Fedchock, Advisor at the International Plant Protection Secretariat, explains.
Read full article at: https://www.tradefacilitation.org/blog/enhancing-food-security-trade-facilitation/
وسوم: ePhyto
Continue reading…
Posted
on

جمعة, 15 يونيو 2018, 14:06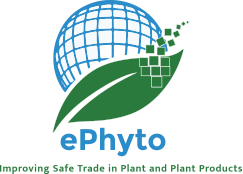 IPPC Contracting Party Contact Points have been sent a letter announcing that the IPPC ePhyto Hub is now open for business. Any Contracting Party/Country wishing to do so is now welcome to sign up and participate. Joining the Hub is not mandatory, but it offers the opportunity for countries with existing national electronic certification systems to exchange phytosanitary certificates electronically once any technical changes needed have been completed. Countries without national electronic certification systems of their own will be offered the opportunity to use the GeNS system once the pilot is completed and reviewed (expected by the end of ...
وسوم: ePhytoIPPC ePhyto Steering Group
Continue reading…
Posted
on

إثنين, 10 أكتوبر 2016, 10:03

The IPPC Technical Committee Meeting on the ePhyto Project (PTC) was held at the offices of the Servicio Nacional de Sanidad y Cálidad Agroalimentaria de la República Argentina (SENASA) in La Plata, Argentina from 3-7 October 2016. The meeting, chaired by Mr Nico Horn, the chair of the ESG from the Netherlands, was attended by the members of the IPPC ePhyto Steering Group (ESG) as well as staff of the United Nations International Computing Centre (UNICC). Mr Shane Sela, the Project Manager for ePhyto, participated in the meeting on behalf of the IPPC Secretariat. The objective of the meeting was ...
وسوم: ePhytoGeNSIPPC ePhyto Steering GroupESG
Continue reading…
Posted
on

خميس, 16 يونيو 2016, 09:29

عقد السيد Jingyuan Xia، أمين الاتفاقية الدولية لوقاية النباتات، اجتماعاً مع السيد Melvin Spreij، أمين مرفق وضع المعايير وتنمية التجارة (STDF) يوم 15 حزيران/يونيو عام 2016، في المقرّ الرئيس لمنظمة الأغذية والزراعة في روما، إيطاليا. حضر الاجتماع السيد Fedchock Craig (منسِّق الاتفاقية)، والآنسةSarah Brunel (مسؤولة انفاذ الاتفاقية) وحضر السيد ماركو Benovic Marko (المسؤول المالي للاتفاقية الدولية لوقاية النباتات) الاجتماع أيضا. وكان الهدف الرئيس من الاجتماع مناقشة عدد من الموضوعات المتعلقة بالمشاريع الممولة من قبل مرفق وضع المعايير وتنمية التجارة، والمشاريع الحالية والخطوات المحتملة التالية للمضي قدماً في العلاقة بين المنظمتين.
استعرضت الآنسة Brunel تقرير أحدث اجتماع للجنة تنمية ...
وسوم: ePhytoSTDFcapacity developmentCapacity Development Committeemanualstrade facilitationPCE
Continue reading…
Posted
on

إثنين, 02 مايو 2016, 14:48

إصدار الشهادات إلكترونيا، وبخاصة شهادات الصحة النباتية الإلكترونية، مهم على نحو متزايد بالنسبة لمستقبل إصدار شهادة الصحة النباتية في مجتمع الاتفاقية الدولية لوقاية النباتات. ولهذا السبب، تحتاج الاتفاقية إلى المشاركة بنشاط في إصدار شهادات الصجة النباتية إلكترونيا لضمان فهم مشترك وخلق الوعي بفوائد مثل هذا الإصدار. ومثل هذه المناسبة هي مدارسة مرفق وضع المعايير وتنمية التجارة (STDF) على الإصدار الالكتروني لشهادات الصحة النباتية الخاصة بالاتفاق بشأن الصحة والصحة النباتية في 28 حزيران/يونيو 2016 في منظمة التجارة العالمية في جنيف، سويسرا. يتمثل الهدف العام للمدارسة هو رفع الوعي بالفرص والتحديات المرتبطة بإنفاذ نظم إصدار الشهادات الإلكترونية للاتفاق بشان الصحة والصحة ...
وسوم: ePhytoelectronic certificationCertification
Continue reading…
Posted
on

ثلاثاء, 08 مارس 2016, 07:25

عقد الاجتماع الثنائي حول تعزيز التعاون ما بين الاتفاقية الدولية لوقاية النباتات والمنظمة العالمية للجمارك في الرابع من آذار/مارس 2016 في المقر الرئيس للمنظمة العالمية للجمارك في الاتحاد الأوروبي في بروكسل، بلجيكا. وتألف وفد الاتفاقية، من السيد جينغ يوان شيا (أمين الاتفاقية)، ومنسق الاتفاقية السيد كريج فيدشوك. وتألف وفد المنظمة العالمية للجمارك من السيد كونيو ميكوريا (أمين عام المنظمة العالمية للجمارك)، والسيد ألان هاريسون (المسؤول التنفيذيي لمكتب الأمين العام) والسيد ثيو هيسيلنك (المسؤول الفني عن الامتثال والتيسير) وكان الهدف الرئيس من الإجتماع مناقشة إمكانية توقيع اتفاقية بخصوص التعاون ما بين الاتفاقية الدولية والمنظمة العالمية للجمارك.
وخلال الاجتماع، قدم أمين ...
وسوم: CooperationWCOePhyto
Continue reading…
Posted
on

أربعاء, 21 أكتوبر 2015, 07:44

عقدت ورشة العمل الإقليمية للاتفاقية الدولية لوقاية النباتات لمنطقة الكاريبي في الفترة ما بين 29 أيلول/سبتمبر - 1 تشرين ِأول/كتوبر2015، في بورت إسبانيا، ترينيداد وتوباغو. تم تنظيم ورشة العمل من قبل معهد البلدان الأمريكية للتعاون في مجال الزراعة (ILCA) وأمانة الاتفاقية الدولية لوقاية النباتات، واستضافته حكومة ترينيداد وتوباغو، بدعم مالي من صندوق التنمية الأوروبي العاشر (EDF) لمشروع الصحة والصحة النباتية (SPS) من الاتحاد الأوروبي (EU). وحضرها 16 مشاركاً من 12 طرفاً متعاقداً وممثلين من ILCA وأمانة الاتفاقية الدولية، كما حضر ورشة العمل عضو من لجنة المعايير.
ترأس السيد Michael James (باربادوس) الاجتماع، بدعم من ممثل IICA، الآنسة Carol Thomas ...
وسوم: CaribbeanIPPC Regional WorkshopRegiondraft ISPMsstandardsnational reporting obligationsNROsePhyto
Continue reading…
Posted
on

إثنين, 03 نوفمبر 2014, 12:07

The APPPC workshop on Building Understanding and Preparedness for Electronic Phytosanitary Certification was convened in Bangkok, Thailand from 28-30 October, 2014 with over 40 participants from 21 countries, the IPPC Secretariat and FAO Regional Office for Asia and the Pacific. The event was one of the implementation activities of the APPPC work plan, which highlights implementation of ISPMs especially ISPM 6, 12, 14 and 15.
During the workshop participants shared their country's status on the use of hard copy certificates, and systems developed to use electronic certificates in their countries as well as successes, challenges and emerging issues.
The ...
وسوم: ePhyto
Continue reading…
Posted
on

خميس, 24 يوليو 2014, 16:25

The final study is now available (click on File below).
وسوم: ePhytoFeasibility
Continue reading…
Posted
on

أربعاء, 19 فبراير 2014, 12:31

The ePhyto Steering Group has been busy preparing a new series of factsheets and newsletters to explain their work and the process of potential implementation of electronic phytosanitary certificates. The Steering Group is proud to announce that these factsheets will be part of an ongoing effort to increase awareness about the benefits, in comparison to paper-based phytosanitary certification, to both exporting and importing countries. Translations for these factsheets will also be availble shortly! Educate yourself on the ePhyto updates by clicking here.
وسوم: ePhytoFactsheet
Continue reading…
Posted
on

خميس, 26 سبتمبر 2013, 14:40

The first face-to-face meeting of the IPPC ePhyto Steering Group, established by the 8th session of the Commission on Phytosanitary Measures, took place in Auckland, New Zealand from 16 to 19 September 2013. After reviewing the Terms of Reference for the group, presentations were given by several participants to demonstrate ePhyto systems currently in progress in their respective countries. The group received an update on the ePhyto hub feasibility study from the consultant working on the project, and was able to provide him with additional information to support the effort. The group also reviewed and commented on the draft appendix ...
وسوم: ePhytoSteering Group
Continue reading…
Posted
on

ثلاثاء, 20 نوفمبر 2012, 09:10

The ePhyto workshop in Brazil will be being streamed in the presentation language only (mainly English) from http://www.livestream.com/solucoesaovivo.

The workshop programme can be found here. All times are Brazilian times.

وسوم: BrazilePhytoLive
Continue reading…
Posted
on

أربعاء, 15 يونيو 2011, 10:10

An Open-Ended Working Group on IPPC OEWG on Electronic Certification was held in Seoul, Republic of Korea, from Tuesday 07 June to Friday 10 June, 2011. The meeting was attended by participants from 27 countries and 2 regional plant protection organizations.
An increasing number of countries are converting from paper systems to electronic certification systems. A global ePhyto standard will greatly facilitate the inter-governmental exchange of phytosanitary certificates with improved security and often large gains in efficiencies. Some background information can be found on the IPPC website.
For most countries this plant health initiative will be integrated into their animal ...
وسوم: ePhytoIPPC
Continue reading…