Viewing tagged as: IPPC
Posted
on

جمعة, 22 يونيو 2018, 09:54

Dr. Jingyuan Xia, Secretary of the International Plant Protection Convention, and Dr. Kunio Mikuriya, Secretary General of the World Customs Organization (WCO), signed an agreement at the WCO Headquarters in Brussels on 19 June 2018 to promote cooperation on matters of common interest to help facilitate the international trade of plants and plant products in a safe and efficient manner.
The areas where the two Organizations will cooperate include, but are not limited to: Electronic Data Exchange (ePhyto), eCommerce, Sea Containers, Single Window and Communication and Advocacy. In addition, the IPPC and WCO will establish a joint work plan with ...
وسوم: IPPCIPPC SecretariatWCO
Continue reading…
Posted
on

أربعاء, 24 أغسطس 2016, 11:10

To tackle devastating crop diseases, Africa should boost regional plant surveillance. The emergence of Tuta absoluta on the African agricultural landscape has rekindled pertinent questions regarding Africa's capability to protect local agriculture and enhance international trade. The importance of being battle-ready on a grand scale rather than leaving those who are struggling to make daily lives take up arms against a pest they barely know about, is therefore not difficult to see. Thus, strengthening our national or preferably regional approach to plant protection could be key.

وسوم: Tuta absolutasurveillanceIPPCWTOSPS Agreementfood securitytradeprotect agricluturegovernment
Continue reading…
Posted
on

أربعاء, 18 مايو 2016, 11:34

هذا ملخص لمقالة كاملة يمكن رؤيتها على موقع الصون على الرابط: https://theconversation.com/the-world-health- 59114 من كتابة إريك بوا.
في عالم يتم فيه نقل السلع المادية والكائنات الحية إلى أماكن أكثر مع زيادة في التردُّد، فإن فرص انتقال الأمراض والآفات تتضاعف في كل الأوقات. ويمكن لعواقب الغزوات الجديدة أن تكون كارثية، ومن هنا تبرز الحاجة لثلاثية من المنظمات التي تشرف على المسائل الصحية على المستوى العالمي. وتعدّ منظمة الصحة العالمية (WHO)المنظمة الأكثر شهرة من بين الثلاثي، وكان آخرها للأسباب الخاطئة نظراً للإخفاقات القاتلة في الاستجابة لفيروس إيبولا في غربي أفريقيا. تعدُّ المنظمة العالمية للصحة الحيوانية (OIE) على ...
وسوم: OIEWHOIPPCawareness
Continue reading…
Posted
on

أربعاء, 28 أكتوبر 2015, 15:31

إجتمعت جماعة عمل الخبراء التابعة للاتفاقية الدولية لوقاية النبتاتات لتعديل المعيار الدولي لتدابير الصحة النباتية 6: الخطوط التوجيهية لمراقبة الآفات (2009-004) في الفترة الواقعة ما بين الثامن والعشرين من أيلول/سبتمبر إلى الثاني من تشرين الأول/أكتوبر 2015 في أوكلاند، نيوزيلاندا
استضافت وزارة الصناعات الأولية في نيوزيلندا الاجتماع الذي نظمته أمانة الاتفاقية، وكان رئيس الاجتماع السيد Paul Stevens (نيوزيلندا). وحضر اجتماع جماعة عمل الخبراء تسعة مشاركين، بما في ذلك أربعة خبراء اختارتهم لجنة المعايير (SC) من الأرجنتين، وأستراليا، وكندا، وهولندا، والقائد من بولندا وممثلين اثنين من الهيئة المضيفة / المنظمة.
وكان الغرض من اجتماع جماعة الخبراء إعادة النظر في المعيار الدولي ...
وسوم: IPPCEWGISPMs
Continue reading…
Posted
on

جمعة, 23 أكتوبر 2015, 14:18

التقى وفد من الاتفاقية الدولية لوفاية النباتات ترأسه السيدJingyuan Xia ، أمين الاتفاقية مع وفد من كبار مسؤولي مكتب الكومنولث الزراعي الدولي ترأسه الرئيس التنفيذي للمكتبTrevor Nicholls وذلك يوم الخميس 22 تشرين أول/أكتوبر. وصاغ الطرفان خلال الاجتماع خطاب نوايا مع بعض الأهداف المحددة للمستقبل، والذي، يتعيَّن؛ بعد مراجعته ووضع اللمسات الأخيرة عليه، أن يضع الأساس لبرنامج العمل المستقبلي الهادف إلى تعزيز الوعي لدى كلتا المنظمتين وأهمية الصحة النباتية والحماية. وتأمل المنظمتان، من بين أمور أخرى، المشاركة في ورشة العمل المشتركة Plantwise / الاتفاقية والتعاون على ترويج السنة الدولية للصحة النباتية.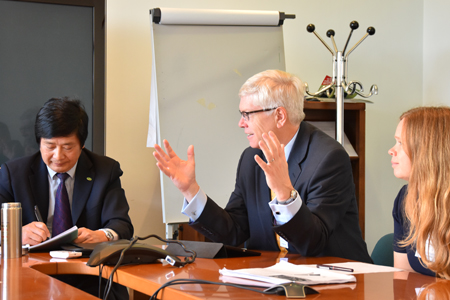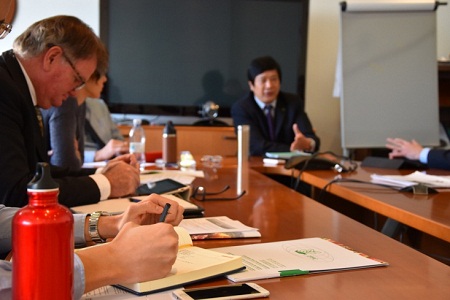 وسوم: IPPCCABI
Continue reading…
Posted
on

خميس, 17 سبتمبر 2015, 10:58

كان أمين الاتفاقية الدولية لوقاية النباتات، Jingyuan Xia، ومنسق الاتفاقية،Craig Fedchock ، مشاركين نشطين في الاجتماع العاشر لحماعة الاتصال المعنية بالتنوُّع الحيوي/البيولوجي والمتضمنة سبعة اتفاقيات تنمية مستدامة (SDAs) والذي عُقد في جنيف في 16 أيلول/سبتمبر.
شمل جدول الأعمال مجموعة واسعة من الموضوعات، وقدمت أمانة الاتفاقية الدولية لوقاية النباتات تقريراً عن التطورات المتعلقة بالأنشطة المتصلة بمقترح السنة الدولية لصحة النباتاتات، وكذلك الجهود المتعلقة بشهادات الصحة النباتية الإلكترونية (لتشمل التعاون الإضافي بين الاتفاقية الدولية للتجارة في الأنواع المهددة بالانقراض من الحياة البرية الحيوانية والنباتية والاتفاقية الدولية لوقاية النباتات بشأن نظم مماثلة). ووجه السيد Xia أمين الاتفاقية الدولية الدعوة ...
وسوم: IPPCBLGCBD
Continue reading…
Posted
on

خميس, 05 مارس 2015, 11:22

Mr. Jingyuan Xia of the People's Republic of China has been named by FAO Director General Graziano da Silva as the next Secretary of the International Plant Protection Convention (IPPC). Mr. Xia has a BSc in plant protection, as well as an MSc and PhD in entomology. He has held several senior positions with Chinese agricultural institutions and most recently has been Permanent Representative and Minister Plenipotentiary to FAO. Mr. Xia will be taking over the position of Mr. Yukio Yokoi who resigned from the position of Secretary and has since taken up a position as Senior Advisor in ...

وسوم: IPPCSecretary to the IPPC
Continue reading…
Posted
on

أربعاء, 21 يناير 2015, 10:25

(Rome, 20 January 2015). Members of the IPPC Secretariat met with Convention on Biological Diversity Executive Secretary Dr. Braulio Dias for a detailed discussion on the relationship between the two Secretariats of the two conventions. Among other things, they discussed revision of the joint work plan, and other opportunities related to the Liaison Group on Biodiversity. Both Secretariats are focused on enhancing their relationship to work on matters of mutual interest as well as to push forward in order to meet the Aichi Targets.

وسوم: CBDIPPC
Continue reading…
Posted
on

جمعة, 09 يناير 2015, 15:16

The initial issue of the European Seed Magazine has reported on the latest developments regarding the IPPC's effort to develop a seed standard. The article can be found at the following link: http://european-seed.com/just-doctor-ordered/

وسوم: Seed StandardIPPCEfforts
Continue reading…
Posted
on

ثلاثاء, 14 أكتوبر 2014, 17:11

The International Plant Protection Convention (IPPC) Strategic Planning Group (SPG) meeting took place from 7-10 October 2014 in Rome, Italy, to provide strategic guidance to the IPPC governing body. The SPG attracted 23 strategic thinkers from 19 countries around the world, including 9 developing countries.
A wide range of issues were discussed and included key secretariat work such as the development of an IPPC implementation programme on surveillance, the framework for standards development, the revised national reporting obligations programme, and the ePhyto feasibility study. The Commission on Phytosanitary Measures (CPM – IPPC governing body) Bureau provided an update on 2014 activities ...
وسوم: IPPCSPG
Continue reading…
Posted
on

إثنين, 23 يونيو 2014, 19:50

The meeting of the IPPC Financial Committee took place on 23 June 2014 in Rome, which was opened by the new Chairperson, Mr John Greifer, after the recent reshuffling of the members. The Committee discussed various financial issues, including the financial report, resource mobilization (efforts, results and potential activities) as well as the financial implications of ongoing IPPC activities such as the ISPM15 symbol registration. The IPPC Financial Committee was established as a part of the IPPC Resource Mobilization Strategy, which was adopted by CPM-7, in March 2012.
وسوم: IPPCFCFinancial Committee
Continue reading…
Posted
on

خميس, 29 مايو 2014, 16:09

At the 9th Session of CPM, the Recommendation CPM-9/2014/1 covering "IPPC Coverage of Aquatic Plants" was adopted: https://www.ippc.int/core-activities/governance/cpm-recommendations/ippc-aquatic-plants. The International Plant Protection Convention (IPPC), having the purpose of "securing common and effective action to prevent the spread and introduction of pests of plants and plant products", does not distinguish between terrestrial and aquatic plants and does not specifically refer to aquatic plants. Furthermore, as clarified by the CPM on several occasions, the IPPC deals with the protection of plants whether cultivated, managed or wild.
Aquatic plants may, as other plants, be ...
وسوم: IPPCAcquatic Plants
Continue reading…
Posted
on

جمعة, 22 نوفمبر 2013, 16:47

This past week, the Technical Working Group (TWG) between the IPPC Secretariat and CABI, including its Plantwise programme, met at FAO Headquarters in Rome to review the progress made since they convened last January to identify the areas of common interest and possible joint activities in the future. Given the different but complementary nature of IPPC and CABI activities, the TWG intends to explore how they can best synergize their respective missions while also improving understanding and building capacity amongst IPPC contracting parties and CABI member countries on areas of mutual interest. Discussions during the two-day meeting aimed to highlight ...
وسوم: CABIIPPC
Continue reading…
Posted
on

خميس, 26 سبتمبر 2013, 16:54

Photo by CBD Secretariat On 16-17 of September, the IPPC Secretariat participated in a meeting with the Secretariat of Convention on Biodiversity (CBD), in Montreal, Canada. Joined under the Memorandum of Cooperation (2004), the two Secretariats have agreed to cooperate on relevant activities conducted under their frameworks, "to promote synergy, to avoid overlaps and unnecessary duplication, and to ensure effective cooperation."
The objective of this third joint meeting was to exchange updates on recent major developments, identify activities for possible future collaboration, and work to formulate specific work plans with emphasis on issues such as invasive alien species and biosafety ...