Posted on ثلاثاء, 18 أكتوبر 2016, 10:43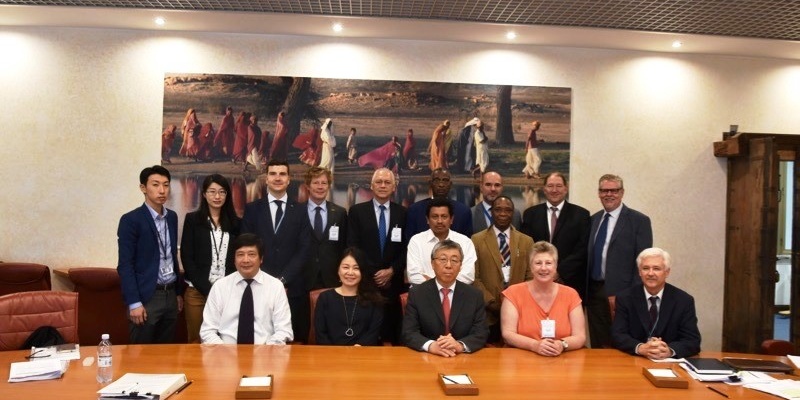 The CPM Bureau held a successful meeting spread over 4 and 7 October 2016 around the annual IPPC Strategic Planning Group (SPG) meeting, in Rome, Italy. The meeting was chaired by Ms Lois Ransom, the Bureau Chair from Australia, and opened by Mr Jingyuan Xia, the IPPC Secretary. The meeting was attended by all the Bureau members (except North America) as well all team leaders of the IPPC Secretariat. For the first time the Chairperson of the IPPC Standards Committee (SC) was invited to attend the meeting as an observer.
Mr Ren Wang, Assistant Director-General (ADG) for the Agriculture and Consumer Affairs Department (AGD) in FAO, briefly attended the Bureau meeting to: provide an update on developments in FAO relevant to the work of the IPPC, address the feedback on the re-organization of the IPPC Secretariat and obtain feedback on major activities related to the IPPC work programme. Significant discussion took place and a highlight was the recent successful first step taken through the FAO Committee on Agriculture (COAG) to endorse the initiative of an International Year of Plant Health in 2020 (IYPH 2020).
Over the two days the Bureau discussed a range of subjects, including the organization and subsequent outcomes of the Strategic Planning Group (SPG), the report of the CPM Bureau Finance Committee that met earlier on 4 October 2016, planning for CPM-12 in the Republic of Korea in 2017, the revision of the existing IPPC Recommendations, planning increased number of awareness raising activities, the development of both a sea containers and an IPPC 65th Anniversary pages on the IPP, the establishment of an IPPC Implementation Committee to possibly replace the Capacity Development Committee (CDC), Subsidiary Body on Dispute Settlement (SBDS) and the National Reporting Obligations Advisory Group (NROAG), the endorsement of the IPPC Standards and Implementation Framework for 2016, identify possible reductions to the IPPC work programme as an adjustment for the reduced amount of funding available through the IPPC Multi-donor Trust Fund, and information needs for the foreseeable future.
Following detailed discussions, the Bureau was able to identify cost saving reductions in the IPPC work programme to address the budget deficit in the IPPC Multi-donor Trust Fund. It was agreed that replenishment of the IPPC Multi-donor Trust Fund must be treated as a high priority for the foreseeable future to sustain existing core Secretariat staff.
Ms Kyu-Ock Yim (Bureau Representative for Asian) provided an update of the preparations for CPM-12 which is anticipated to be highly successful and a milestone for the IPPC as it is the first CPM to be held outside Rome, Italy.