Posted on 星期一, 02 十一月 2015, 17:07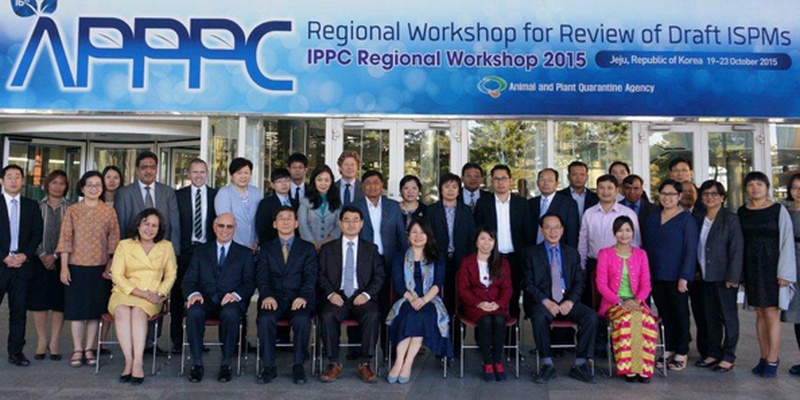 The 16th IPPC-APPPC regional workshop for Asia on the review of draft ISPMs and key IPPC issues was organized from 19-23 October 2015 in Jeju, Republic of Korea, with participation of 35 delegates from 19 countries in the region. This is the 10th workshop hosted and funded by the Republic of Korea. The workshop was opened by Mr Suhyon Rho, Director General of the Department of Plant Quarantine, Rep. of Korea. Dr Piao Yongfan, Executive Secretary of APPPC, welcomed participants on behalf of APPPC and FAO regional office for Asia and Pacific to the 16th IPPC/APPPC workshop. The Chairperson for the workshop was Dr Kyu-Ock Yim (Republic of Korea).
It was stressed that the workshop would not only review the draft ISPMs but also discuss several important subjects of IPPC, APPPC and CPM, while the workshop provided opportunity for capacity development for some participants. The workshop participants produced regional comments on two drafts ISPMs, which will be shared by NPPOs of member countries in the region as one of valuable references for NPPOs to develop national inputs to the drafts ISPMs.
Countries provided status updates on pest surveillance and the development of their surveillance work plans which were followed by discussions on how to move forward.
Participants were also updated on ePhyto developments, arrangements for the International Year of Plant Health (IYPH), the status of registration of the ISPM15 symbol, procedures for submission of formal objection of the adoption of an ISPM, the importance of meeting National Reporting Obligations (NROs), the availability of phytosanitary resources, the progress on the development of IPPC commodity standards, as well as the development of an APPPC RSPMs, etc. Several specific activities of the APPPC work plan (2016-2017) adopted by the 29th Session of APPPC were highlighted, especially the implementation of ISPMs such as the APPPC surveillance implementation work plan (2016-2020) with focus of the next two years, which was based on progress achieved in the past four years.
The participants highly appreciated the scope and activities of the workshop and shared a significant amount of national information. It is anticipated that the workshop may facilitate NPPOs to more actively participate in the CPM-11 in 2016.