Posted on 星期二, 17 九月 2019, 16:13
Participants of the 2019 IPPC National Reporting Obligations Workshop for NENA © FAO
5 September 2019, Beirut - The 2019 IPPC National Reporting Obligations (NRO) Workshop for the Near East and North Africa (NENA) was held in Beirut, Lebanon from 5 to 6 September 2019. Thirty-seven representatives and observers attended the workshop. They came from 16 IPPC contracting parties, FAO's Plant Production and Protection Division (AGP-AG), FAO's Regional Office for the Near East and North Africa Region (FAO-RNE), the Near East Plant Protection Organization (NEPPO), the Arab Society for Plant Protection (ASPP) and the IPPC Secretariat.
Dr Jingyuan Xia, the IPPC Secretary, delivered the opening remarks and highlighted three important points:
National Reporting Obligations are a core element of the IPPC's work to ensure safe trade, safeguard food security and protect the environment from plant pests.

The workshop provided an important opportunity for IPPC contracting parties to improve their capacity to fulfill their obligations. For example, participants developed their capacity to prepare and submit reports and exchanged experiences on ways to increase resources for collecting data.

This was the first time that participants from the NENA region had a chance to share how they successfully dealt with challenges related to submitting reports.
A representative from the IPPC Secretariat introduced the IPPC NROs and statistics from NROs reports. Participants then received hands–on training in using the system; and updates on the latest developments regarding:
Participants reported that the workshop improved their understanding of NROs; and strengthened their capacity to fulfil their obligations.
The 2019 IPPC NRO Workshop for NENA was financially supported by IPPC Global Project on Capacity Development under the Framework of FAO-China South to South Cooperation. It was jointly organized by IPPC Secretariat, FAO-RNE, NEPPO, and the Ministry of Agriculture of Lebanon.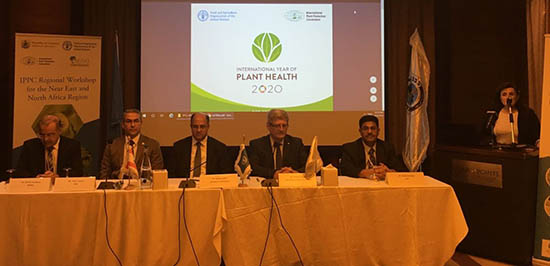 Closing Ceremony of the 2019 IPPC National Reporting Obligations Workshop for NENA © NEPPO
分享到Facebook