Posted on 星期二, 17 九月 2019, 13:24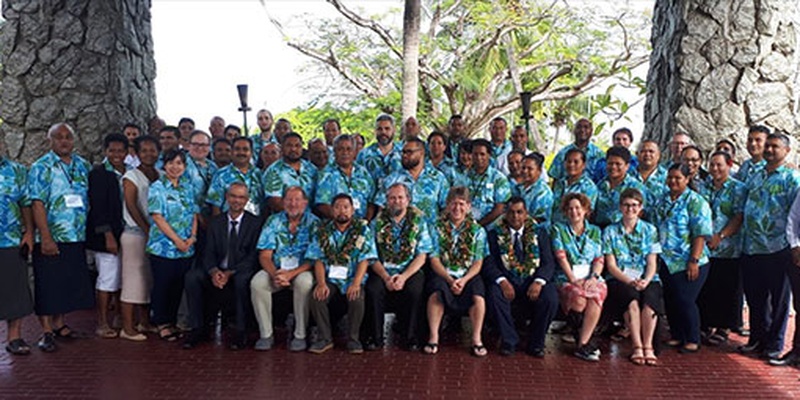 Participants at the first IPPC ePhyto workshop for the Southwest Pacific held in August 2019. © FAO
29 August 2019, Nadi, Fiji - The first International Plant Protection Convention (IPPC) ePhyto workshop for the Pacific Plant Protection Organisation (PPPO) was held in Nadi, Fiji from 29 to 30 August 2019. It was attended by the 17 members of the Pacific Plant Protection Organisation (PPPO) and funded by Australian Department of Foreign Affairs and Trade (DFAT) and New Zealand Ministry of Foreign Affairs and Trade (MFAT).
The workshop was successful with 15 countries expressing interest in using the Generic ePhyto National System (GeNS). The IPPC GeNS is a centralized web-based system that allows countries without their own systems to produce, send and receive electronic phytosanitary certificates (ePhytos).
Workshop participants got hands-on experience in using the GeNS with expert assistance from the United Nations International Computing Center (UNICC) representative Venkat Venkateswaran, ESG Chair Peter Neimanis of Australia and IPPC ePhyto experts Christian Dellis (Lead Technical Officer) and Craig Fedchock (IPPC ePhyto Project Director).
The three key objectives of the workshop were to ensure participants from NPPOs:
had a thorough understanding of the GeNS;

were aware of the benefits of GeNS for industry and government; and

were able to prepare an implementation plan for their country and region. The workshop included:

a detailed demonstration of GeNS functionality and how to customize the system; and

feedback on user requirements from participants (from NPPOs and industry) who participated in the pilot phase.
The workshop covered topics such as:
Implementation planning including:

User training

IT support (NPPO)

Change management

User manuals

Legislation

Process reengineering

Cost recovery

Sustainability

Collaboration on border process harmonisation across similar agencies

Stakeholder engagement

Trade facilitation

Capacity development
Next steps include:
continuing to develop the knowledge and capacity of PPPO countries to use ePhytos for trade facilitation;

posting relevant information on the IPPC website;

PPPO countries will start implementing ePhytos according to the 3 year strategic plan;

identifying pathways for collaboration by PPPO countries for implementing the IPPC ePhyto system; and

publishing the proceedings and report of the workshop.