Posted on 星期三, 03 四月 2019, 17:03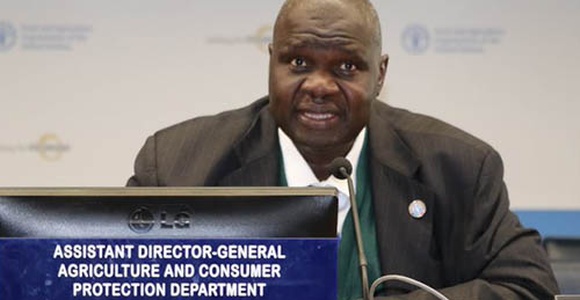 In his opening address, Mr Bukar Tijani, FAO Assistant Director-General of the Agricultural Department (AG) stressed that adopting sustainable agriculture practices, protecting the environment and biodiversity, and facilitating safe trade were all essential for plant health. © FAO/ S. Moon
1 April 2019, Rome - The fourteenth session of the Commission on Phytosanitary Measures (CPM-14) has opened at FAO headquarters. A record number of nearly 500 participants from over 145 contracting parities, and 30 observation organizations attended the meeting.
Mr. Bukar Tijani, FAO Assistant Director-General of the Agriculture and Consumers Protection Department (AG), delivered an opening address; Dr. Víctor Manuel Villalobos Arámbula, Minister of Agriculture and Development of Mexico, presented a recorded congratulating message, and Dr. Jingyuan Xia, the Secretary of the International Plant Protection Convention (IPPC), chaired the opening session.
In his opening statement, Mr Tijani acknowledged the CPM's "critical role in ensuring the supply of food and the safe trade of plants and plant products to the world". He added that adopting sustainable agriculture practices, protecting the environment and biodiversity, and facilitating safe trade were all essential for plant health.
Regarding the International Year of Plant Health (IYPH) 2020, Mr. Tijani asked CPM participants "to make the most of this once in a lifetime opportunity to raise global awareness of the importance of maintaining healthy plants to help achieve the UN Sustainable Development Goals".
Mr. Tijani also noted that he would be pleased to see the IPPC ePhyto solution transition from a being a project to a key program of the IPPC Secretariat in the future. Last but not least, he hoped to see strong and sustained funding for the IPPC Secretariat though increased financial support from FAO regular programme and voluntary contributions from IPPC Contracting parties.
In his congratulatory message, Dr. Villalobos Arámbula expressed his highly commended the CPM for "its high level of productivity in issuing standards that have been adopted by different governance groups" and added that they have been of great benefit for all countries. He acknowledged that the IYPH 2020 declaration was a big step forward in raising the visibility of plant health and the IPPC, but that:
"Today more than ever, we must make visible the work carried out by this Convention to prevent the spread of pests and diseases. We must summon our authorities, civil society and the private sector to participate actively."
In his introductory remarks, Dr. Xia warmly welcomed all CPM participants. He reminded them that CPM-14 was a historic bridge towards the next decade as they will be called upon to finalise the IPPC Strategic Framework for 2020-2030 for its final endorsement at the CPM-15 in 2020. He highlighted that the upcoming IYPH in 2020 is a milestone not only for the IPPC Community but also for the global plant health community.
Finally, Dr. Xia expressed his heart-felt gratitude to the EU, COLEACP, Republic of Korea and China, for their financial support to participants from nearly 70 developing contracting parties, which greatly contributed to record participation at the CPM-14.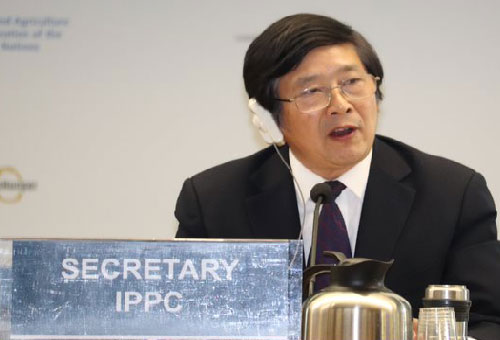 Mr Jingyuan Xia, the International Plant Protection convention (IPPC) Secretary talked about the future of the IPPC and its new Strategic Framework for 2020-2030, as well as the International Year of Plant Health 2020. © FAO/ S. Moon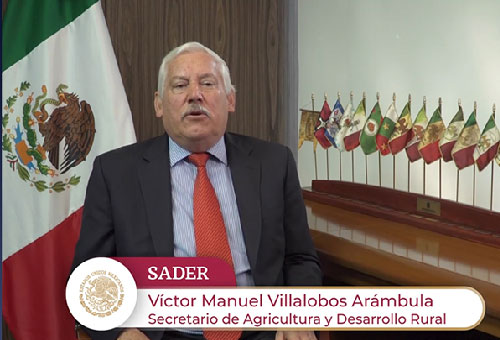 Dr. Víctor Manuel Villalobos Arámbula, Minister of Agriculture and Development of Mexico. © FAO/ S. Moon
分享到Facebook