Posted on ثلاثاء, 16 إبريل 2019, 10:59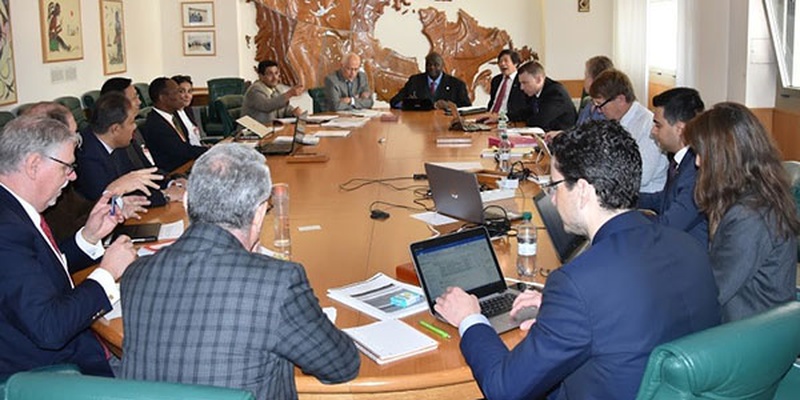 Participants at the Commission on Phytosanitary Measures (CPM) Bureau meeting. © FAO
5 April 2019, Rome - The Commission on Phytosanitary Measures (CPM) Bureau met before and after the CPM-14 meeting held in Rome from 1-5 April 2019.
The main objectives and activities of the pre-CPM meeting from 27-29 March were to review pending issues, finalize the CPM-14 agenda, and reflect on each day s discussions. The meeting was chaired by Mr. Francisco Javier Trujillo Arriaga (CPM Chairperson), opened by Mr. Jingyuan Xia (IPPC Secretary) and attended by all Bureau members, as well as all core team members of the IPPC Secretariat.
In his opening remarks, Mr. Xia gave the Bureau updates on major progress made on the IPPC Secretariat s work since its last meeting in December 2018. He also stressed the important issues for this Bureau meeting and CPM-14, including the IPPC Strategic Framework for 2020-2030, preparations for promoting the IYPH 2020, the five-year work plan for the IPPC ePhyto, the five-year investment plan of the IPPC Secretariat, and the work plan and budget of the IPPC Secretariat for 2020.
The CPM Bureau reviewed the previous Bureau meetings reports (October 2018, December 2018), and was briefed on the Financial Committee Meeting held in March 2019. The Bureau also discussed the CPM-14 agenda in detail, and gained consensus on important topics and issues.
The main objectives and activities of the post CPM-14 meeting on 5 April were to discuss follow-up actions to the CPM-14. The meeting was chaired by Mr. Javier Trujillo, and opened by Mr. Bukar Tijani, Assistant Director General of FAO s Agriculture Department.
In his opening remarks, Mr. Tijani expressed his sincere congratulations for the great success of CPM-14, and his gratitude to all Bureau members for their dedication in ensuring plant health worldwide. He acknowledged the adoption of the IPPC Strategic Framework 2020-2030 and that it represented a turning point in the life of the convention. He also looked forward to strong and sustained funding for the IPPC secretariat through increased financial support from the FAO and IPPC contracting parties.
Mr. Trujillo Arriaga congratulated Ms Lois Ransom, departing CPM Bureau member and former chairperson of the CPM, for her years of dedicated and committed work. She will be replaced by incoming CPM Bureau member Mr. Stephen Butcher from New Zealand.
The CPM Bureau acknowledged the approval of the IPPC Strategic Framework 2020-2013 which will be submitted for adoption at CPM-15 in 2020. The Bureau also acknowledged the visual identity for the International Year of Plant Health (IYPH) and associated outreach plans. However, since IYPH activities are currently under-funded, it asked the IPPC Secretariat in collaboration with the FAO Partnerships division to contact industry groups and private sector organizations to solicit additional funding.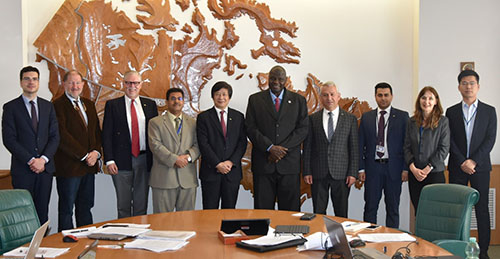 © FAO