Posted on إثنين, 15 إبريل 2019, 16:15
Participants at the CPM-14 IPPC ePhyto Solution side session. © FAO
1 April 2019, Rome - Prior to the official opening of the fourteenth Session of the Commission on Phytosanitary Measures (CPM-14), a highly anticipated side session on the IPPC ePhyto (electronic phytosanitary certification) Solution was held. Mr Craig Fedchock, from the IPPC Secretariat opened the session by introducing Mr Venkat Venkateswaran, from the the United Nations International Computing Centre (UNICC) and the ePhyto Lead Technical Officer, Mr Christian Dellis, from the US.
Mr Craig Fedchock then revealed the new ePhyto promotional video. He gave an overview of the Hub - a centralized system that allows National Plant Protection Organizations (NPPOs) to exchange ePhytos - and the GeNS (Generic National Systems) which allows countries without their own systems to produce, send and receive ePhytos. There are 31 countries registered to the Hub and four of these countries are currently exchanging production certificates. In addition, Ghana, Samoa and Sri Lanka are piloting the GeNS.
Mr Fedchock thanked the donors present for their financial support and reiterated that it is not mandatory to join ePhyto; it is simply another tool for exchanging phytosanitary certificates.
NPPO Director Attipoe of Ghana shared his country s experience with the GeNS pilot, which started in 2018, and Ghana s plan to make the system go live by May 2019. He called the GeNS system very safe, very simple, and very fast. Mr Attipoe also emphasised how cost effective the IPPC ePhyto Solution will be for his country and how it will help reduce fraud and ultimately facilitate trade.
ePhyto Industry Advisory Group (IAG) members Mr Dennis Johnson (International Seed Federation) and Ms Katy Lee (International Grain Trade Coalition) presented case studies about countries currently using ePhytos. They emphasised the importance of these case studies for implementing the ePhyto project. These nine case studies clearly show that using ePhytos is efficient and saves time. However, the IAG will only be able to give a full picture of the benefits of using ePhytos when more countries use them.
Lastly, using the Ghana instance of the GeNS system, Mr Dellis and Mr Venkateswaran did a step-by-step live demonstration on how countries draft a certificate, send it for review and validation, and issue an ePhyto to the importing country - in this case the USA. Mr Dellis also demonstrated how to use the Hub to send a certificate back to Ghana from the US national system.
A key takeaway from the demonstration is that the only information the IPPC Secretariat can see is the number of certificates being exchanged, and no other information is held by the IPPC.
The side session finished with a fruitful Q&A session, addressing a number of key concerns from countries.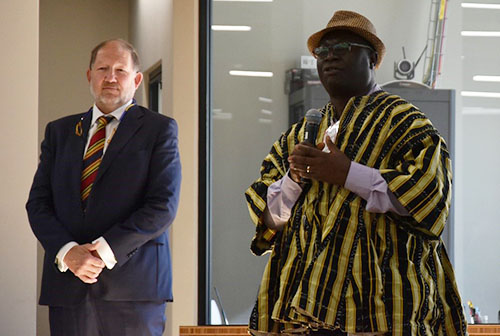 Mr Craig Fedchock of the IPPC Secretariat with the NPPO Director Attipoe of Ghana as he shares his country s experience with the GeNS pilot. © FAO