Posted on خميس, 13 ديسمبر 2018, 17:08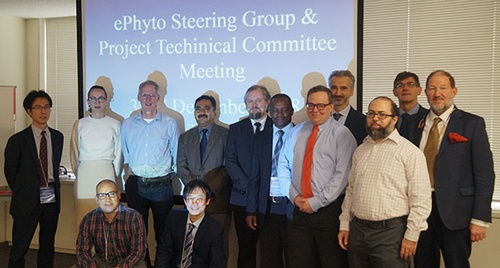 7 December 2018, Tokyo – The IPPC ePhyto Project Technical Committee (PTC) and IPPC ePhyto Steering Group (ESG) met in Tokyo, Japan from 3 to 7 December 2018 to review and provide feedback on the recently developed Generic ePhyto National System (GeNS); and several ePhyto strategies.
The GeNS allows countries to produce, send and receive electronic phytosanitary certificates through a harmonised exchange tool called a "hub". The hub was released for country use in June 2018, while the GeNS system will start its pilot phase during the first quarter of 2019 and will be released during the second and third quarters of 2019.
The ePhyto Strategic Plan, the ePhyto donor strategy and the ePhyto communications strategy were also discussed. Participants then reflected on progress made on the Industry Advisory Group case study; and the project's interagency collaboration with CODEX, the Convention on International Trade in Endangered Species of Wild Fauna and Flora (CITES), the World Customs Organization (WCO), the Association of Southeast Asian Nations (ASEAN) single window efforts and the World Bank.
The meeting closed with great enthusiasm from the ESG and PTC teams as they saw ePhyto transition from being a project to an operational reality. Go ePhyto!
The meeting was graciously hosted and funded by the Ministry of Agriculture, Forestry, and Fisheries (MAFF) of Japan.
شارك على فيسبوك