Posted on ثلاثاء, 18 ديسمبر 2018, 17:20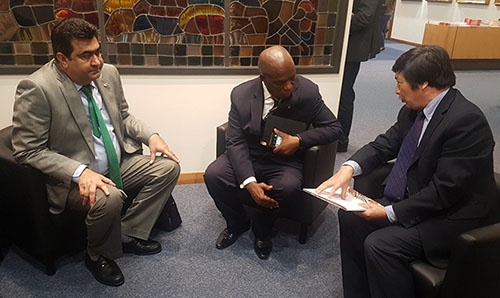 23 November 2018, Rome - Mr Xia Jingyuan, IPPC Secretary, met with H.E. Mr Senzeni Zokwana, South Africa's Minister for Agriculture, Forestry and Fisheries, during the International Symposium on Agricultural Innovation for Family Farmers held at FAO Headquarters in Rome, Italy. Minister Zokwana was accompanied by H.E. Prof Shirish M. Soni, the South African Ambassador to Italy.
The IPPC Secretary Xia expressed his gratitude to Minister Zokwana and Ambassador Soni for South Africa's continuous and strong support to the IPPC's dispute settlement activity. He also briefed them on important IPPC developments including commodity and pathway standards, implementation and capacity building, and the International Year of Plant Health (IYPH) in 2020.
He also proposed potential areas for extending bilateral cooperation, such as applying the ePhyto electronic certification solution, capacity development for African National Plant Protection Organizations (NPPOs), and activities related to emerging regulated pests.
Minister Zokwana reiterated South Africa's support for the activities of the IPPC. The Minister further welcomed the opportunity for increased collaboration with the IPPC and made his staff available for following up on this meeting.
شارك على فيسبوك