Posted on خميس, 12 يوليو 2018, 17:24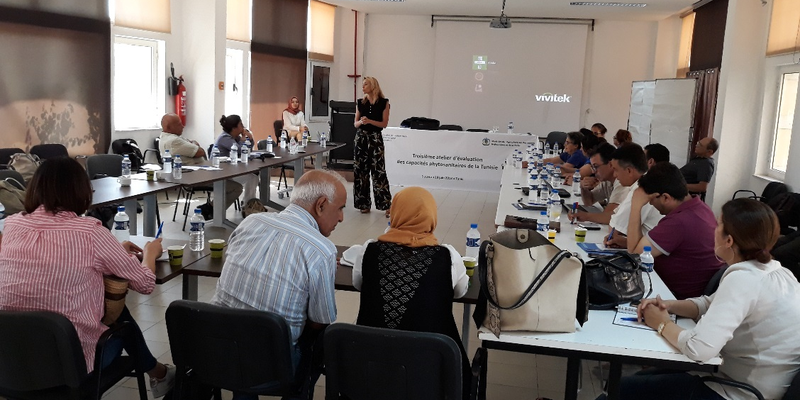 2nd PCE mission in Tunisia, June 2018, Tunis. © Mekki Chouibani
Under the framework of the FAO project TCP/SNE/3601/C1 and with the support of the FAO Sub-regional office for North-Africa (SNE), the IPPC Secretariat carried out the second mission to support the application of the Phytosanitary Capacity Evaluation (PCE) tool.
The 2nd round of the PCE was facilitated by Mr Mekki CHOUIBANI, the PCE facilitator and Executive Director of NEPPO, with contribution of Ms Sarah BRUNEL, IPPC Implementation Facilitation Officer.
A workshop was organized in Tunis from 26 to 28 June 2018 with government officials and stakeholders to discuss and develop a phytosanitary capacity development strategy for the country. Representatives from the following organizations attended the workshop: NPPO, Customs, Research, Producer associations, agricultural chamber as well as from the Ministries of: Agriculture, Environment, Interior, Trade, Transport, etc. Participants complete some of the modules of the PCE where they identified weaknesses and completed the methodologic tools (problem tree, SWOT and logical framework). Results of this work were discussed and agreed.
A work plan was established to facilitate the completion of the remaining PCE modules and roles and responsibilities were clearly defined, with a designated coordinator and participants assigned for each of the following modules: phytosanitary legislation (Module 2), environmental forces assessment (Module 3), NPPO s mission and strategy (Module 4), NPPO s structure and processes (Module 5), NPPO s Resources (Module 6), pest diagnostic capacity (Module 7), NPPO pest surveillance and pest reporting capacity (Module 8), pest risk analysis (Module 11) and export certification, re-export, transit (Module 13).
The PCE in Tunisia is well on track and was supported by the active participation of stakeholders. The national phytosanitary capacity evaluation strategy to be produced will be used to help provide input into the development of a wider project for Tunisia, financed by the European Union to support competitiveness and exports of agricultural and fisheries products (PACE). This project will be managed by the FAO Sub-regional office for North-Africa.