Posted on جمعة, 20 مارس 2015, 16:05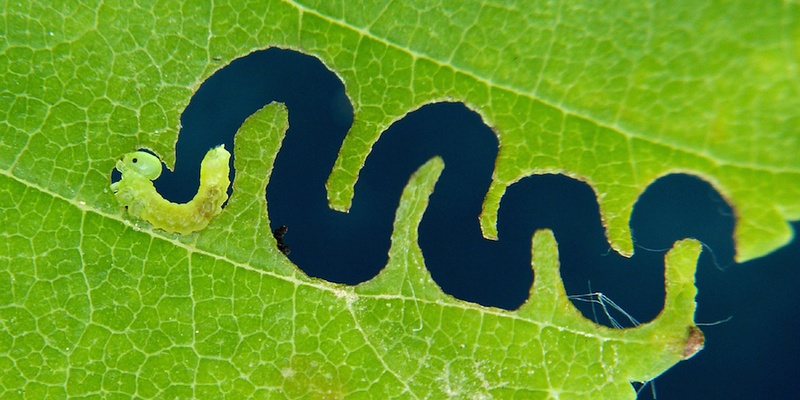 Aproceros leucopoda young larva feeding on Ulmus cultivar ''Resista'' by Thomas Schröder
Dr Thomas Schröder, of the Institute for National and International Plant Health in Braunschweig, Germany, has won first prize in the inaugural Pests Without Borders photo contest organized by the Capacity Development Committee of the International Plant Protection Convention (IPPC).
Dr Schröder s picture of a young larva of the zig zag elm sawfly (Aproceros leucopoda) feeding on a leaf was selected by friends of the IPPC on Facebook and by delegates to the 10th meeting of the Commission on Phytosanitary Measures, the IPPC governing body, which ended today.
Second- and third-place winners were Derric Nimmo, with his photograph of diamondback moths (Plutella xylostella) and Gilles San Martin, with his photograph of the poplar leaf beetle Chrysomela (=Melasoma) populi. All the pictures submitted by photographers around the world can be seen on the contest website.
Two of the winning photographs feature pests that threaten forests, a reminder that as the world celebrates International Day of Forests tomorrow (21 March) we require ever greater vigilance to prevent the spread of plant pests. Dr Schröder is part of that effort, studying risks to elm trees in Europe, once such a feature of the landscape but devastated by Dutch elm disease. New resistant cultivars, often hybrids with Japanese elms, are starting to make an impression on the landscape, but may have another weakness. The zig zag elm sawfly, which seems to have arrived in Europe in 2003, can completely defoliate elms in its native east Asia. With this in mind, in late 2011 the Secretariat of the European Plant Protection Organization added this pest to the EPPO Alert List. Thomas Schröder was conducting a pest risk analysis for this pest in Germany and heard about an alley of hundreds of newly planted Resista elms that was being attacked.
I went there on a sunny weekend to look for the infestation and to take pictures, he said. Luckily the damage was not very high and it seems that there are differences between the years.
A. leucopoda seems to be quite widespread in Europe now, spreading both as a hitch-hiker and naturally: the females are reported to be strong flyers. So it may be too late for effective quarantine measures. As Dr Schröder noted, the future will show how this insect will affect the remaining elms in Europe.
Kyu-Ock Yim, chair of the Commission on Phytosanitary Measures, congratulated the winner.
It''s a striking image, she said, but you can also see how vigorous this pest is. It is a big threat. Dr Schröder''s winning picture may help to alert people to its importance.
Dr Schröder used a Leica V-Lux 3, 30 mm plus close-up lens, 1/200 sec, F 3.7; ISO 100.