Posted on سبت, 08 إبريل 2017, 07:57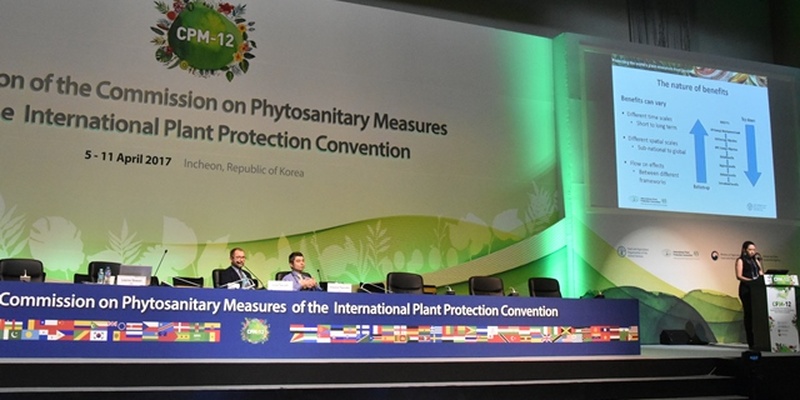 The IPPC Secretariat presented a CPM-12 side session on the Benefits of the IPPC to over 100 participants of CPM-12. The session covered the highlights of the CPM Bureau commissioned study Analyzing the benefits of implementing the IPPC, and brought together panelists involved in the study from the private sector and academia. Panelists presented their case studies, highlighting best practices in plant health through implementation of the IPPC.
Leanne Stewart, Phytosanitary Consultant, presented the direct economic benefits of implementing the IPPC, including the benefits arising from the application of the PCE evaluation tool, and reminded the importance of the Implementation Review and Support System (IRSS), under whose framework the study has been conducted: https://www.ippc.int/en/irss/activities/28/
Executive Director of the Mexican Hass Avocado Importers Association, Ron Campbell presented the Mexican Hass avocado history of exports into the United States of America (USA). Following comprehensive pest risk analyses, in accordance with ISPM 2: Framework for pest risk analysis, trade of the Hass avocado has expanded to an increasing number of US states using a Systems Approach. Gradually Hass avocados have been permitted market access to all states with fewer restrictive measures.
Lecturers from the School of Oriental and African Studies (SOAS) and the International Institute of Social Studies (ISS) of the Erasmus University of Rotterdam, Luca Tasciotti and Elissaios Papyrakis respectively, presented their findings from their case study Implementation of ISPM 15: An empirical analysis of how regulation affects the economy of Botswana, Cameroon, Kenya and Mozambique. The researchers discussed their methodology and findings in detail. The study analysed the value of exports and imports from the period 2001 - 2016 and sought to identify trade patterns through the use of cost/benefit analysis, links to ISPM 15 implementation, and conducted a detailed review of the procedures, legislation and other controls in place for ISPM 15 implementation.