Posted on إثنين, 20 نوفمبر 2017, 12:02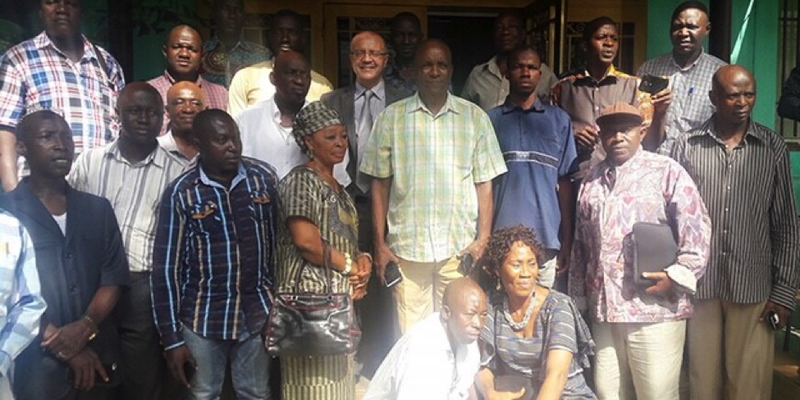 Photo Copyright Mamadouba Camara 2017. PCE Workshop participants convened in Conakry, the Republic of Guinea to apply their third and final Phytosanitary Capacity Evaluation.
A third mission for the application of the Phytosanitary Capacity Evaluation was executed in Conakry, the Republic of Guinea the 18 - 22 September 2017. The purpose of this final mission was to formulate capacity development activities to address the capacity needs identified in the first two PCE applications, to finalize the logical frameworks related to phytosanitary legislation, and to finalize the completion of PCE modules.
The overall objective of this activity is to support Guinea in understanding the existing strengths and gaps in its phytosanitary systems. This understanding will help form the basis for strategic phytosanitary capacity building planning and a phytosanitary strategic framework that will facilitate dialogue with donors of development aid, improving the likelihood of access to further funding.
The mission was carried out by the PCE Facilitator, Mekki Chouibani and Ms Ana Peralta, IPPC Secretariat representative consultant. Several meetings were convened involving different categories of plant health stakeholders through the participatory approach. The PCE workshop covered external stakeholder partnership development, and the review and completion of logical frameworks related to the NPPO environment, plant health legislation, pest surveillance and pest reporting, phytosanitary import regulatory systems and NPPO structure. A final meeting was held with the Guinean Secretary General of the Ministry of Agriculture and the management of the NPPO to present the results obtained over the course of the week. The Secretary General expressed his satisfaction with the results achieved and assured the support of the Ministry of Agriculture towards strengthening the Guinean NPPO and thereby strengthening the phytosanitary system of Guinea.
The mission facilitators noted that participants were very active and motivated during the whole process and remarked on the success of this third and final PCE application. Upon finalization of the workshop, they stressed the importance of placing a strong focus on legislative aspects of the Guinean phytosanitary system as Guinea moves forward finalizing their logical framework and PCE modules.