Posted on إثنين, 22 مايو 2017, 06:00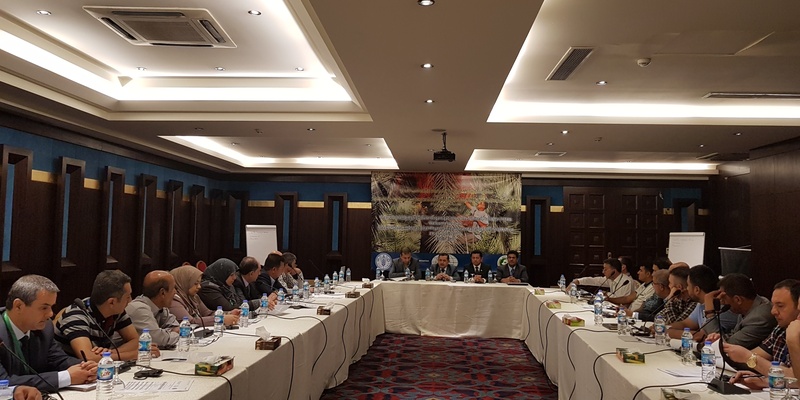 Photograph: IPPC 2017 - Workshop participants from Iraqi Ministry of Agriculture convene in Iraq
The Regional Plant Protection Officer for the Near East and North Africa together with the IPPC s Implementation Facilitation Unit (IFU) Officer facilitated a short, intensive course for 32 participants from the Iraqi Ministry of Agriculture, the 24 - 26 of April 2017 held in Iraq.
Upon request of the NPPO of Iraq, the Regional Office for the Near East (FAO RNE), and the FAO office for Iraq organized the course, designed to introduce the IPPC, its international legal framework, capacity building tools, resources and relevant IPPC standards, especially in relation to the management of Red Palm Weevil. The workshop feeds into a larger supporting initiative, project TCP/IRQ/3602 Technical support for surveillance and management of Red Palm Weevil (Rhynchophorus ferrugineus) in Iraq.
The meeting was well received with active participants who demonstrated interest in the requirements, roles and responsibilities of an NPPO. Participants noted a clearer understanding of the improvements necessary to fulfill their mandates.
The FAO RNE is currently considering future assistance to the NPPO for Iraq, towards continued strengthening of staff phytosanitary capacity.
The Red Palm Weevil (RPW) (Rhynchophorus ferrugineus) (Coleoptera: Curculionidae) is a key pest of palms originating from Southeast Asia. This pest has significantly expanded its geographical and host range during the last three decades. In the Near East and North Africa (NENA) region, RPW is causing widespread damage to date palm, resulting in significant economic and environmental impact. In the Middle East, RPW has been the most destructive insect pest of date palm.
Local Iraqi television coverage of the event (in Arabic) can be found here.
For more information on the NPPO for Iraq click here.
For more information on FAO activities in Iraq click here.