Viewing tagged as: ePhyto
Posted
on

星期一, 01 七月 2019, 12:04
The IPPC Secretariat is proud to announce that on July 15th the Generic National System component of the IPPC ePhyto Solution will go live! This means that countries without their own national electronic certification system who wish to join the IPPC ePhyto Solution can begin their registration process and once fully prepared, can join the IPPC ePhyto Solution through the use of the GeNS. The GeNS is a centralized web- based system that any country without their own electronic certificat...
Posted
on

星期一, 24 六月 2019, 09:26

How can digitising the phytosanitary certification process help to enhance food security? Craig Fedchock, Advisor at the International Plant Protection Secretariat, explains.
Read full article at: https://www.tradefacilitation.org/blog/enhancing-food-security-trade-facilitation/
Posted
on

星期五, 15 六月 2018, 14:06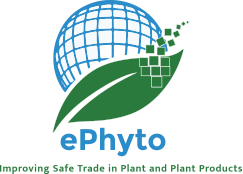 IPPC Contracting Party Contact Points have been sent a letter announcing that the IPPC ePhyto Hub is now open for business. Any Contracting Party/Country wishing to do so is now welcome to sign up and participate. Joining the Hub is not mandatory, but it offers the opportunity for countries with existing national electronic certification systems to exchange phytosanitary certificates electronicall...
Posted
on

星期三, 06 六月 2018, 13:02

The ePhyto Project Technical Committee(PTC)/ePhyto Steering Group (ESG) met during the week of May 28 in Dublin, Ireland. The meeting was graciously hosted by the Irish Department of Agriculture Food and the Marine. The meeting was successful on a number of levels. The PTC agreed that the ePhyto Hub is now open for business, meaning that interested IPPC Contracting Parties with the capacity to do so may now begin to integrate their existing national systems into the Hub. The PTC also prese...
Posted
on

星期一, 10 十月 2016, 10:03

2016年10月3-7日,国际植物保护公约电子植物检疫证书项目技术委员会(PTC)会议在阿根廷拉普拉塔的阿根廷国家农业食品卫生和质量局办公楼召开。会议由电子植物检疫证书项目指导小组(ESG)主席Nico Horn先生任主席,国际植物保护公约ESG成员和联合国国际计算中心(UNICC)的工作人员共同参加。项目主管Shane Sela先生代表国际植物保护公约秘书处出席了会议。会议的目标是推进电子植物检疫证书网络中心和通用电子植物检疫证书国家系统(GeNS)的技术设计工作。
在标准和贸易发展基金(STDF)、加拿大政府、美国政府和国际植物保护公约秘书处的资金支持与协助下,电子植物检疫证书解决方案旨在通过简化和协调电子证书交换过程来协助缔约方实施电子植物检疫认证工作。通过提供用于制作和接收电子植物检疫证书的简易系统,使得发展中国家在没有技术基础设施的情况下也能开展交换电子证书的工作,GeNS正是这一解决方案中的组成部分。
UNICC向PTC提供了有关两个系统设计的拟议细节要求的更新信息。PTC成员与UNICC工作人员一起,对设计进行了优化,以使其满足所有...
Posted
on

星期四, 16 六月 2016, 09:29

2016年6月15日,国际植物保护公约秘书长夏敬源先生与标准和贸易发展基金(STDF)秘书长Melvin Spreij先生在意大利罗马联合国粮农组织总部进行了会谈。参加会议还有Craig Fedchock先生(国际植物保护公约协调员),Sarah Brunel(国际植物保护公约履约官员)和Marko Benovic先生(国际植物保护公约财务官员)。这次会议的主要目的是讨论一系列贸易发展基金资助项目的课题,正在进行的项目和未来增进这两个组织之间的关系向前迈进的方式方法。
Brunel女士回顾了最近在韩国仁川举行的能力发展委员会会议报告,并交流了将在法国巴黎举行关于实施和能力发展委员会(ICDC)的CPM焦点小组会议的相关情况。Fedchock先生回顾了在2016年七月与Spreij先生就有关贸易发展基金资助项目ePhyto的发展情况,以及今年五月与产业咨询集团(IAG)在意大利罗马粮农组织总部举行ePhyto项目会议。讨论还涉及STDF项目350的成果-制定手册和培训套件,以及STDF项目401"植物检疫能力评价(PCE)辅导员培训"的相关情况。
...
标签: ePhytoSTDFcapacity developmentCapacity Development Committeemanualstrade facilitationPCE
Continue reading…
Posted
on

星期一, 02 五月 2016, 14:48

电子证书,具体来说电子植物检疫证书(ePhyto),对国际植物保护公约社区的未来来说越来越重要。由于这个原因,国际植物保护公约需要积极参与电子认证方面的活动,以达成共识以及提升对这种证书的积极的认知。2016年6月28日,在瑞士日内瓦世界贸易组织总部,标准和贸易发展基金(STDF)将举办电子认证SPS系统研讨会。研讨会的总体目标是提高对于机遇的认识,和相关的电子认证SPS系统的实施挑战的认识-主要是在发展中国家。国际植物保护公约秘书处将在上ePhyto研讨会上发言,期望能够促进这项提议(包括ePhyto试点项目),并与利益相关者更好的交流ePhyto相关事项。
研讨会的目的是确定最佳做法,并考虑未来的行动路线,以支持从纸张为基础到以自动化的SPS平稳过渡的控制系统。为了实现这一目标,本次研讨会将: •回顾现有的国际SPS和电子数据交换标准,并考虑突出的标准制定方面的差距; •回顾相关举措,旨在简化贸易程序自动化和推动实施无纸贸易的协同作用和良好做法; •交流目前相关国家在电子SPS证书方面的经验,分享经验教训,探讨面临的挑战,并考虑发展中国家需要的能力建设。<...
标签: ePhytoelectronic certificationCertification
Continue reading…
Posted
on

星期二, 08 三月 2016, 07:25

2016年3月4号,国际植物保护公约和世界海关总署(WCO)就加强双边合作在比利时布鲁塞尔WCO总部举行双边会谈。公约方面,出席会议的有夏敬源先生(国际植物保护公约秘书处秘书长),Craig Fedchock先生(国际植物保护公约秘书处协调员);WCO方面,出席会议的有Kunio Mikuriya先生(WCO总秘书长),Alan Harrison先生(秘书长办公室主任)和Theo Hesselink先生(执行和建导技术官员)。本次会议主要目的是讨论签署的IPPC-WCO合作协议的可能性。
会谈中,夏秘书长简要介绍了国际植物保护公约的历史、使命和主要活动,公约迈向2020的策略规划和其与联合国迈向2030的可持续发展目标(SDGs)相关的工作,以及提升IPPC-WCO合作可能的领域。夏秘书长同时提出了加强IPPC-WCO合作的协议草案。WCO总秘书长对于国际植物保护公约在贸易方面的工作尤其是电子植物检疫证书方面的工作表示感谢。他同时指出了公约和WCO在促进贸易便利化方面的合作的许多领域,比如单一窗口、数据模型、大数据等等。他同时督促WCO应当与公约尽快达成一致,...
标签: CooperationWCOePhyto
Continue reading…
Posted
on

星期三, 21 十月 2015, 07:44

The 2015 IPPC Regional Workshop for the Caribbean Region was held on 29 September – 1 October, in Port of Spain, Trinidad and Tobago. The workshop was organized by the Inter-American Institute for Cooperation on Agriculture (IICA) and the IPPC Secretariat, hosted by the Government of Trinidad and Tobago, and funded by the 10th European Development Fund (EDF) Sanitary and Phytosanitary (SPS) Project from the European Union (EU). Sixteen participants from 12 contracting parties, representati...
标签: CaribbeanIPPC Regional WorkshopRegiondraft ISPMsstandardsnational reporting obligationsNROsePhyto
Continue reading…
Posted
on

星期二, 10 三月 2015, 11:35

Every year, millions of phytosanitary certificates are created, printed, and exchanged between countries as part of the global trade in plant products. These certificates reassure importers that the products have been inspected and found to be free of the kinds of pests that could devastate their local economy by harming agriculture or the environment.
This essential effort is costly in terms of time and resources. That complex, costly and bureaucratic process could now become a t...
Posted
on

星期五, 16 一月 2015, 10:17

The Republic of Korea will be hosting a Global Symposium on ePhtyo later this year. The tentative dates for this event are 9-13 November 2015. As additional information becomes available it will be shared on this web page. We encourage all interested contracting parties to attend what will be a very important activity related to ePhyto.
Posted
on

星期一, 03 十一月 2014, 12:07

The APPPC workshop on Building Understanding and Preparedness for Electronic Phytosanitary Certification was convened in Bangkok, Thailand from 28-30 October, 2014 with over 40 participants from 21 countries, the IPPC Secretariat and FAO Regional Office for Asia and the Pacific. The event was one of the implementation activities of the APPPC work plan, which highlights implementation of ISPMs especially ISPM 6, 12, 14 and 15.
During the workshop participants shared their country's s...
Posted
on

星期四, 24 七月 2014, 16:25

The final study is now available (click on File below).
标签: ePhytoFeasibility
Continue reading…
Posted
on

星期三, 19 二月 2014, 12:31

The ePhyto Steering Group has been busy preparing a new series of factsheets and newsletters to explain their work and the process of potential implementation of electronic phytosanitary certificates. The Steering Group is proud to announce that these factsheets will be part of an ongoing effort to increase awareness about the benefits, in comparison to paper-based phytosanitary certification, to both exporting and importing countries. Translations for these factsheets will also be availbl...