Posted on أربعاء, 15 نوفمبر 2017, 11:02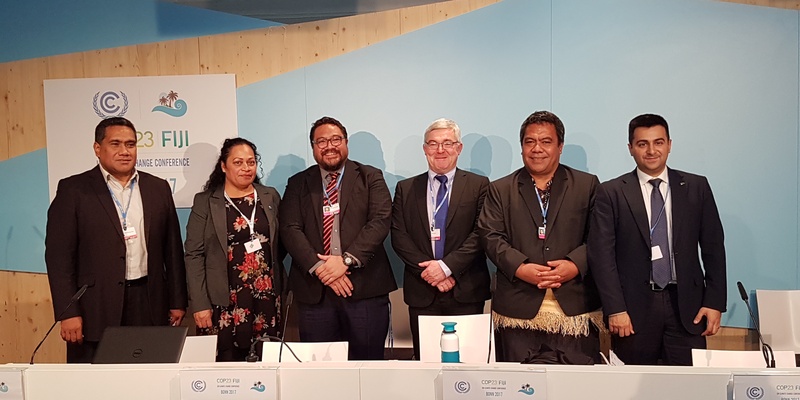 The IPPC community was strongly represented at the 23rd Conference of Parties (COP-23) of the United Nations Framework Convention on Climate Change (UNFCCC). For the first time the topic of plant health was broadly discussed at a climate change COP through a side event on organized during the COP-23 on 12 November 2017.
The main objective of the side event on climate change and plant health was to initiate discussion and raise awareness over the impacts of climate change on pest distribution and early occurrence, and subsequently on plant health and food security.
Over thirty participants attended the event, which was also webcasted live and recorded. Speakers of the side event were: Malia Talakai, Climate Change Officer, FAO; Mirko Montuori, Public Information Officer at IPPC Secretariat, FAO; Lois Ransom, Ministry of Agriculture and Water Resources, Australia and Chairperson of the Commission on Phytosanitary Measures (video message); Ralf Lopian, Ministry of Agriculture of Finland and Chairperson of the International Year of Plant Health Steering Committee; Viliami Kami, Ministry of Agriculture, Food, Forestry and Fisheries of Tonga and IPPC Contact Point; Dean Solofa, Climate Change Officer, Secretariat of the Pacific Community.
Speakers highlighted the strong correlation and impact of climate change, particularly increased temperatures and rainfalls, on plant health. Concrete examples on the threat posed by climate change on agriculture in the Pacific Region and beyond were presented.
Participants agreed on the dire need to raise awareness of the importance of healthy plants to achieve the Zero Hunger objective. The International Year of Plant Health in 2020 was mentioned as a key tool to promote this message.
Links:
Mirko Montuori, Lois Ransom, Ralf Lopian, Viliami Kami, Dean Solofa