Posted on Wed, 12 Feb 2020, 10:14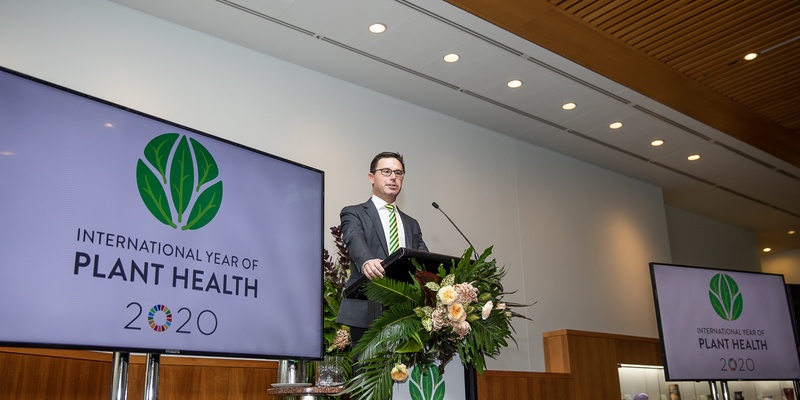 Minister for Agriculture, Drought and Emergency Management, The Hon David Littleproud MP who provided the formal launch address.
Canberra, 6 February 2020 - The International Year of Plant Health (IYPH) 2020 has been officially launched on 6 February in in Canberra, Australia with the active participation of local and international governments, plant health authorities and exponents of the private sectors and industries. Mr David Littleproud, Federal Minister for Agriculture of Australia, spoke at the IYPH opening ceremony at Australia's Parliament House, inaugurating a rich programme of events and activities Australia is putting in place throughout the year at the national level.
The Director General of FAO, Mr Qu Dongyu, welcomed the Australian initiative with a special video message, highlighting the exemplary effort made by the country to protect plant health even in critical situations, and expressing FAO' solidarity for the terrible bushfires that are destroying farms and biodiversity in the country.
"For over 70 years, FAO and Australia have built a strong partnership, sharing common strategies and development priorities for agriculture. Australia is thus one of the biggest supporters of FAO's plant health initiatives and projects. Today's event reflects the strong commitment of the Australian government to promoting and sustaining plant health", remarked the FAO DG.
The development and implementation of international plant health standards has been recognized by Mr Qu as one of the top priorities of the organization. "Protecting plants from pests and keeping them healthy starts with prevention", stressed the chief of FAO. Nevertheless, the phytosanitary risks associated with international travel and trade can have the most destructive impact on those isolated territories, such as Australia and the Pacific islands.
According to the Australian Chief Plant Protection Officer, Department of Agriculture, Water and the Environment, Ms Gabrielle Vivian-Smith, the threat that plant pests and diseases pose to Australia's agricultural systems and biodiversity is growing. "It is imperative that we prevent, prepare for and respond effectively to pest threats in Australia and assist others in our region and beyond to benefit from our knowledge and expertise," stressed the Chief Plant Protection Officer, encouraging the Australian phytosanitary community to make plant health systems stronger and champion the importance of plant health in 2020.
Mr John Wood, Chair of the Rural Research and Development Corporations emphasised the value of biosecurity and collaborative plant health research for farmers. "As a farmer we rely on science everyday - for the biosecurity and quarantine provisions to protect our borders; right through to the pathology to protect our crops. Every day world class scientists and officials are working to protect our livelihoods and protecting our industries. So our thanks to all of them", recognised Mr Woods.
The role of Finland as a strong advocate for International Year of Plant Health was recognised at the event which was attended by the Deputy Ambassador of Finland to Australia, Ms Katja Karppinen.
Throughout the year many activities and events are being organised recognise and champion the importance plant health all around the country by Plant Health Australia, the Plant Biosecurity Research Initiative, Australia's plant industries, and Australian and State and Territory governments. These include innovative and fun initiatives such as a film competition with the theme "Planted" as part of the Enlighten Festival in Canberra and a card game for school children featuring Australia's National Priority Plant Pests.
In promoting the year, Mr Greg Fraser, Executive Director and CEO of Plant Health Australia said how partnerships and multidisciplinary research can make the difference in securing plant health worldwide. "Peak industry bodies, research and development corporations, botanic gardens, governments and the community will partner together and with the international plant health community to find new ways of combating emerging plant pest threats", he said.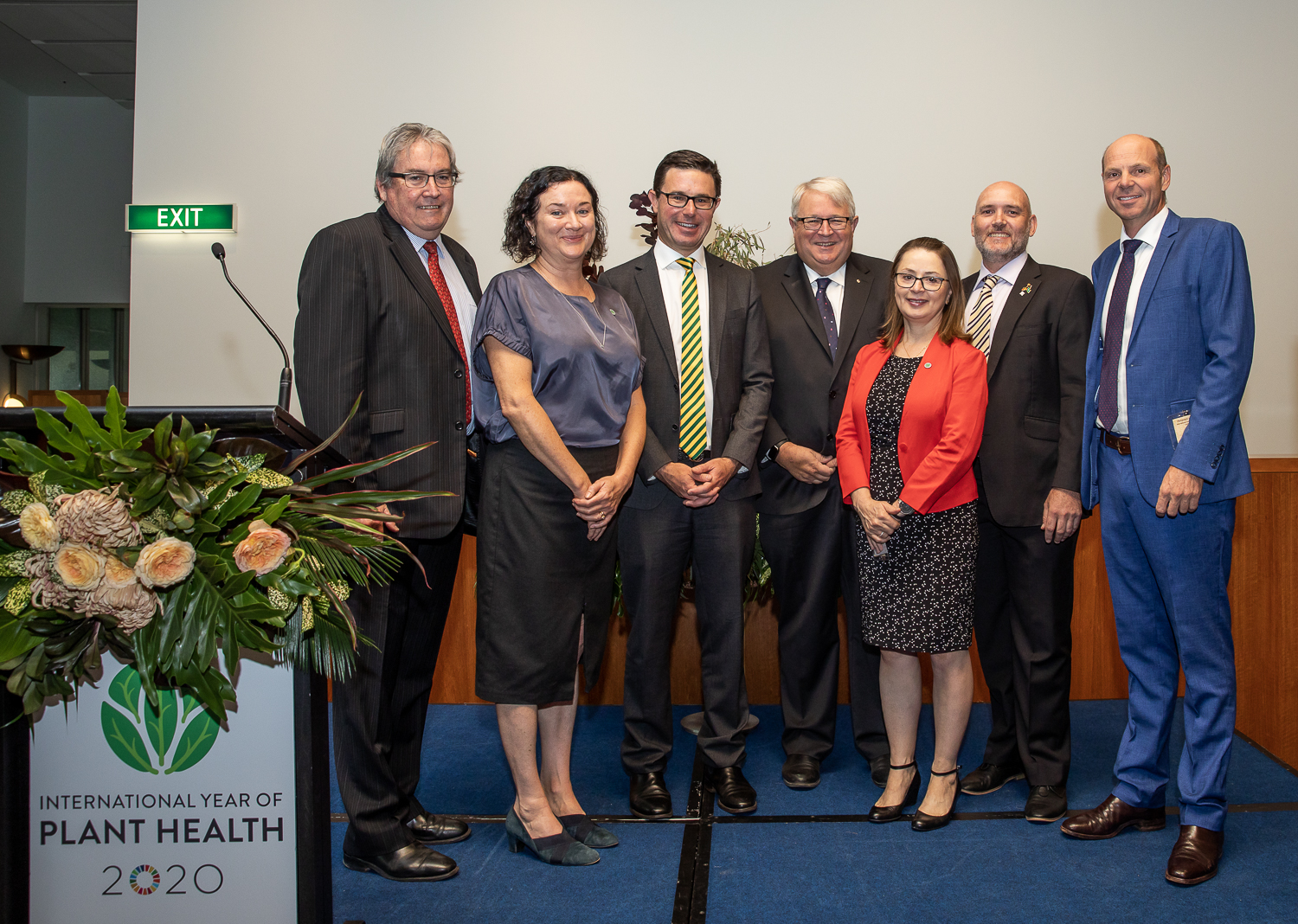 Speakùers other dignitaries, from left to right Mr Greg Fraser, Chief Executive Officer of Plant Health Australia; Dr Jo Luck, Director of Plant Biosecurity Research Initiative; The Hon David Littleproud; Mr Andrew Metcalfe, Secretary of the Department of Agriculture, Water and the Environment; Dr Gabrielle Vivian-Smith, Acting Australian Chief Plant Protection Officer; Mr Tim Lester, Executive Officer of the Council of Rural Research and Development Corporations; Mr John Woods, Chair of the Council of Rural Research and Development Corporations.