Strategic Planning Group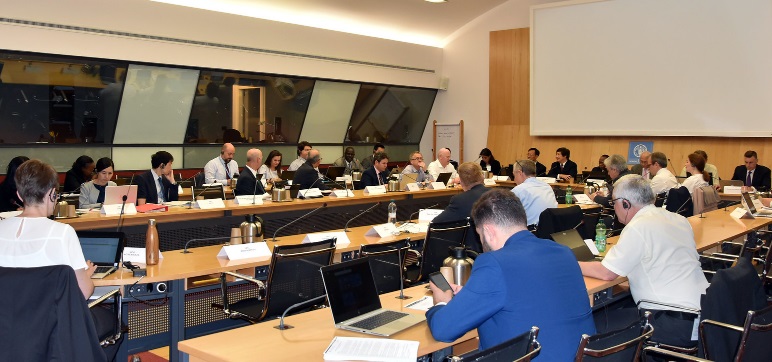 The purpose of the Strategic Planning Group (SPG) is to provide strategic perspective to the work of the IPPC and to support improvement through the provision of recommendations and advice to the CPM on any issues which have been referred and other issues related to the functions of the SPG.
The SPG meets at least once a year and no less than four months prior to the CPM meeting, to allow for report preparation and the undertaking of specified activities before the CPM meeting.
Other interested persons representing Contracting Parties with a specific interest in contributing to the strategic work of the SPG should indicate their intent to participate in a meeting of the SPG no less than 45 days prior to the beginning of the meeting.
Meeting
Place
From
to
2003 SPTA
Rome
Italy
13 Oct 2003
17 Oct 2003
2004 SPTA
Rome
Italy
11 Oct 2004
15 Oct 2004
2005 SPTA
Rome
Italy
11 Oct 2005
15 Oct 2005
2002 SPTA
Rome
Italy
15 Oct 2002
18 Oct 2002
2006 SPTA
Rome
Italy
02 Oct 2006
06 Oct 2006
2007 SPTA
Rome
Italy
01 Oct 2007
05 Oct 2007
2008 SPTA
Rome
Italy
07 Oct 2008
10 Aug 2008
2009 SPTA
Rome
Italy
06 Oct 2009
09 Sep 2009
2001 SPTA
Rome
Italy
04 Dec 2001
06 Dec 2001
2000 SPTA
Rome
Italy
01 Oct 2000
01 Oct 2000
2018 SPG
Rome
Italy
09 Oct 2018
11 Oct 2018
2013 SPG
Rome
Italy
08 Oct 2013
11 Oct 2013
2015 SPG
Rome
Italy
13 Oct 2015
15 Oct 2015
2010 SPTA
Rome
Italy
04 Oct 2010
06 Oct 2010
2011 SPTA
Rome
Italy
04 Oct 2011
07 Oct 2011
2012 SPG
Rome
Italy
09 Oct 2012
12 Oct 2012
2017 SPG
Rome
Italy
10 Oct 2017
12 Oct 2017
2014 SPG
Rome
Italy
07 Oct 2014
10 Oct 2014
2016 SPG
Rome
Italy
04 Oct 2016
06 Oct 2016
2019 SPG
Rome
Italy
08 Oct 2019
10 Oct 2019
2020 SPG

Italy
08 Oct 2020
09 Oct 2020
2020 SPG - extra

Italy
10 Nov 2020
10 Nov 2020
2021 SPG
Rome
Italy
19 Oct 2021
19 Oct 2021
2022 SPG
FAO HQ, Rome
Italy
24 Oct 2022
26 Oct 2022
2023 SPG
FAO HQ, Rome
Italy
10 Oct 2023
13 Oct 2023