Posted on Wed, 31 Aug 2016, 14:28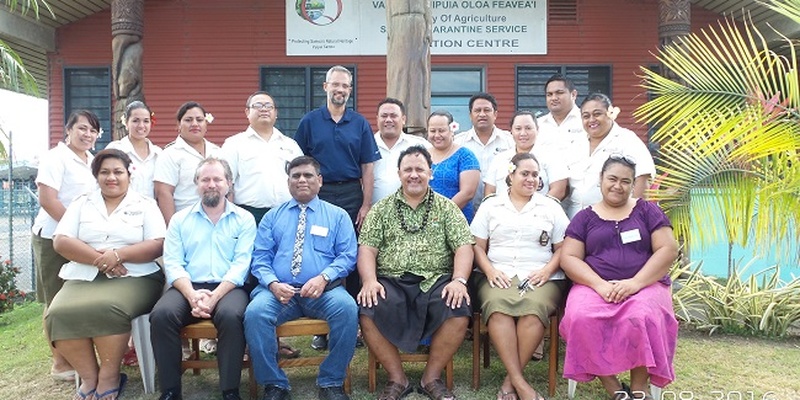 Front row: Viiga S. Filemu, Peter Neimanis, Chinthaka Karunaratne, Pelenato Fonoti, Talei F. Moors, Sarai Tevita
Back row: Ferila Samuelu, Jacqualine Adams, Fiapaipai To''o, Letoa Pine, Shane Sela, Toleafoa Daryl Elisaia, Anoano S Vaai, Vaeve''a Vesi Ioane, Olive Jayto Alesana, Tanu Tufuga, Tovine Wilson
The IPPC Secretariat along with members of the ePhyto Steering Group (ESG) met with the Samoan Quarantine Division from 22-26 August 2016 in Apia, Samoa. Mr Shane Sela, the Project Manager for ePhyto, attended the meeting on behalf of the IPPC Secretariat. The objective of the meeting was to discuss the specifications of the proposed ePhyto Solution and the steps required for pilot countries to implement the *generic ePhyto national system* (GeNS).
Samoa is one of the countries selected to pilot the GeNS component of the ePhyto Solution which is expected to begin in early 2017. The ESG and IPPC team worked with Samoan Quarantine Officers and its senior management to assess their work activities and to identify the business changes required for implementing the GeNS. The group also discussed the development of a detailed country work plan outlining the steps for implementation of the GeNS in Samoa.
Some key elements of the work plan include: establishing a country based project team which will work with the ESG and IPPC in the installation and training on the system; conducting a detailed assessment of the workflows associated with the issuance and receipt of phytosanitary certificates; identification of potential areas where changes in these work flows may be required; and the establishment of processes for consultation with country stakeholders which will assist Samoans with identifying the benefits and potential impacts of implementation. The assessment is a key to ensuring that countries selected for the pilot are ready to implement the GeNS once ready for installation. Moreover, working closely with pilot countries provides an opportunity for the IPPC to receive feedback from on the proposed process for conducting a business assessment in support of ePhyto implementation. This business assessment process is an important tool for all countries intending to implement ePhyto. A business process assessment roadmap will be made available to all countries once the pilot is complete.
The ESG and the IPPC Secretariat will be working with other countries selected for the pilot, including Ecuador and Ghana, to conduct similar assessment discussions for piloting the GeNS in these countries. A similar assessment of Sri Lanka which has also been selected for the pilot was completed in June 2016.
A Samoan Quarantine officer conducting an export inspection