Posted on Fri, 15 Apr 2016, 16:44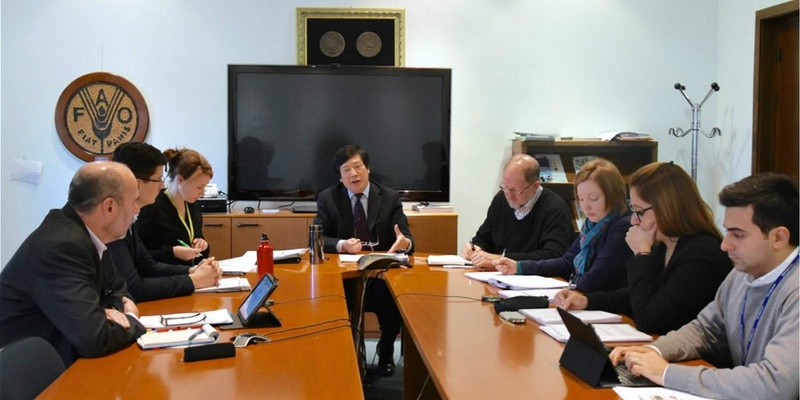 The Bureau of the Commission on Phytosanitary Measures (CPM) met from 29 through 31 March at FAO headquarters in Rome to prepare for the upcoming CPM-11 which took place from 4 - 8 April. During this meeting, the Bureau reviewed the CPM agenda topics and discussed how best to address any topics that may become contentious during the week. In addition, the Bureau had the opportunity to meet with Assistant Director General Ren Wang for a detailed discussion on highlights of the upcoming CPM, an update on key developments within FAO, as well as a good exchange on issues related to agro-ecology and biotechnology. The Bureau expressed its appreciation for the enhanced relationship between FAO and the IPPC, in particular expressing their thanks for Mr Wang s interest in, and support for, the IPPC.
A new Bureau was elected by CPM-11 and is composed of Ms Lois RANSOM (Chairperson - SW Pacific), Mr Corné VAN ALPHEN (Europe - The Netherlands), Mr Lucien KOUAME KONAN (Africa - Cote d Ivoire), Mr. Kamaleldin Abdelmahmoud Amein BAKR (Near East - Sudan), Ms Kyu-Ock YIM (Asia - Republic of Korea), Ms Marie-Claude FOREST (North America - Canada) and Mr Javier TRUJILLO ARRIAGA (Latin America and Caribbean - Mexico) and commenced their duties immediately after the closure of CPM-11. The Bureau also thanked Mr John GREIFER (North America - USA), Mr Khidir Gibriel MUSA EDRES (Near East - Sudan) and Mr Diego QUIROGA (Latin America and Caribbean - Argentina) for their contributions to the Bureau over the past two years.
Following CPM, the combined Bureau membership (both old and new) met to discuss the annual planning meeting in June, to be held in Beijing, China. Among other things, the Bureau re-allocated topic responsibilities for each member and decided upon the Finance Committee membership. The Bureau also agreed to look at various ideas for both short- and long-term financial resource mobilization.