Rome, 28 April 2021. Peru's National Agrarian Health Service (SENASA) announced a national phytosanitary emergency on April 11 after confirming Fusarium oxysporum f. sp. cubense Tropical Race 4 (Fusarium TR4) on a banana farm in Peru. Quarantine and emergency response actions are underway to prevent a devastating disease to Musa cavendish banana from spreading to other banana producing areas. While eradication is impossible, prevention and containment are key actions for managing the spread of the disease. Surveillance, diagnosis of the affected property, destruction of affected plants, and quarantine activities are operational according to the national containment plan.
SENASA's emergency plan intensified delimiting surveys, quarantine, control and diagnostic reporting to contain the disease and prevent it from spreading throughout the country. Factors contributing to the disease spread are contaminated farm tools and vehicles, people and animals, contaminated clothing and water, and irrigation and drainage areas with Fusarium TR4.
The Minister of Agriculture and Rural Development of Colombia, Mr. Rodolfo Enrique Zea Navarro said, "It is important to work together, as well as have support of the Food and Agriculture Organization (FAO), Inter-American Institute for Cooperation on Agriculture (IICA) and other multilateral organizations, because in the face of this crisis we must be supportive."
In August 2019, Colombia confirmed South America's first case of Fusarium TR4 on a 175 HA banana farm. A second case in South America has been confirmed in Peru. On high alert is neighboring Ecuador who has not reported Fusarium TR4 and has reinforced actions at border crossings to prevent the arrival of this devastating disease that could jeopardize Ecuador's banana export market. Ecuador is the leading banana exporter in the world and preventing Fusarium TR4 from entering the country is their number one priority.
Banana and plantain production is important to Latin America's agricultural economy with 68% of the world's banana exports originating from the Region. The Minister of Agriculture and Livestock of Ecuador, Mr. Xavier Enrique Lazo Guerrero, expressed that his country is very concerned. The banana sector is very important for the sustainability of the economy since it represents 17% of the workforce, generating millions of USD in exports, and has more than two million people associated with the banana industry.
Colombia and Ecuador are two of South America's most important banana exporting countries while Peru is gaining market share of organic banana exports. Peru has managed to position itself in European markets thanks to its organic production and successful cases of fair trade implementation, while Bolivia supplies bananas to countries in the southern cone of South America.
The Andean Community is also coordinating actions aimed to prevent the spread of Fusarium TR4. Andean Technical Committee (CAN) for Agricultural Health held an emergency meeting to coordinate actions to prevent the spread of the disease in the region after Peru confirmed its presence on a 0.5 ha organic banana farm in the Department of Piura. Mr. Jorge Hernando Pedraza, Secretary General of the Andean Community stated, "The Fusarium TR4 is a threat that affects the economies and there is a commitment and obligation to address it immediately."
The Minister of Rural Development and Lands of the Plurinational State of Bolivia, Mr. Remmy Gonzales, stated, "Bolivia views the FusariumTR4 with great concern and suggested joint work with international cooperation to protect countries that are not affected."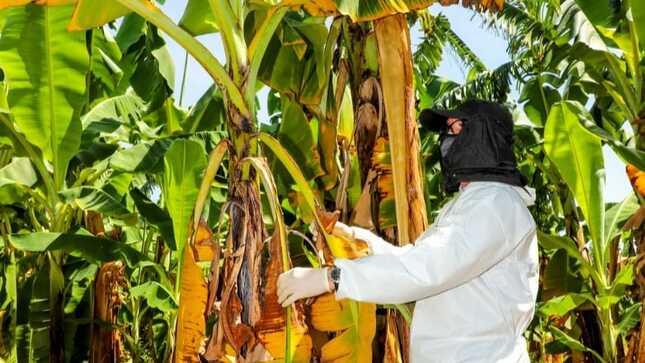 Credit: SENASA Peru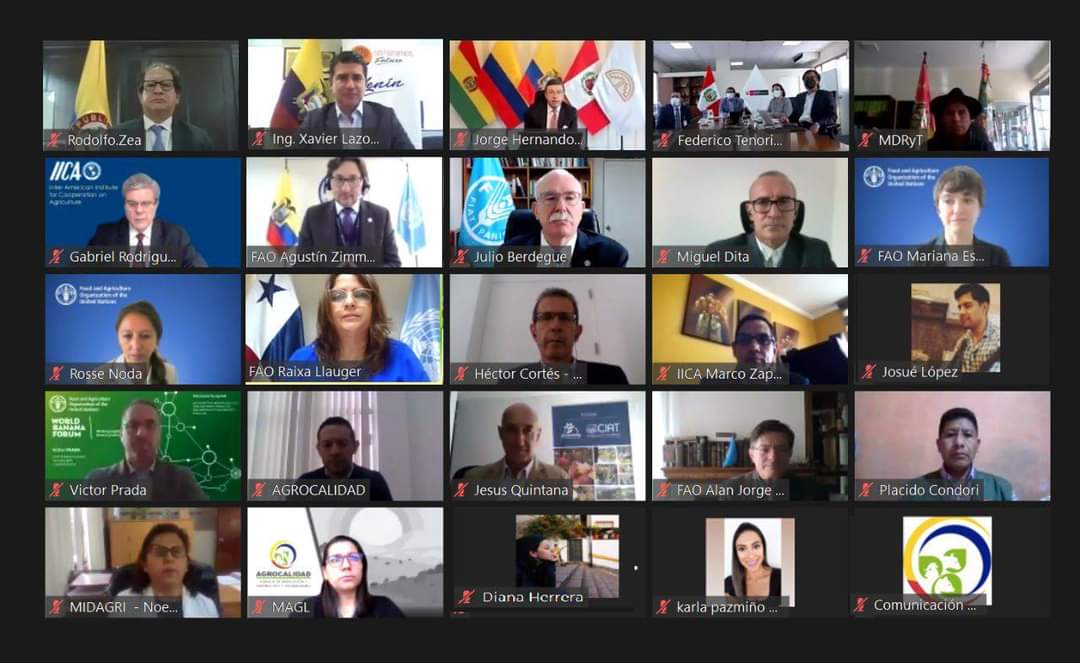 Credit: SENASA Peru