Rome, 21 April 2021. For FAO and the Secretariat of the International Plant Protection Convention (IPPC), international cooperation around phytosanitary issues is crucial. To improve planning and enhance global cooperation, the Organization has established a FAO Plant Health Team composed of the FAO Plant Production and Protection Division (NSP), the IPPC Secretariat and FAO Regional and Sub-Regional Plant Protection and Production Officers.
The FAO Plant Health Team met virtually on 21 April to discuss sub-regional, regional, and global plant health priorities, and to share information on joint activities and plans. During his opening remark, Mr Jingyuan Xia, NSP Director, noted that plant health is not only about plant protection, but also about plant production, and stressed the importance of keeping seeds, soils and cultivations healthy to achieve better plant health. He also acknowledged the International Year of Plant Health (IYPH) as successful global campaign and case of effective cooperation.
The IPPC Secretariat provided a briefing on the recent fifteenth session of the Commission on Phytosanitary Measures (CPM-15), the IYPH, the International Day of Plant Health, and implementation and capacity development issues, such as Phytosanitary Capacity Evaluations and Pest Outbreak Alert and Response Systems. The NSP Division shared an update on the dissemination of the NSP 2021 annual theme, which is food security and nutrition (SDG 2), a short briefing on One Country One Commodity (OCOC) Global Action; and updates on Locust control and the Fall armyworm Global Action.
During the meeting, representatives of the FAO regional offices for Africa (RAF), Asia-Pacific (RAP), Europe (REU), Latin America and Caribbean (RLC), and Near East (RNE) shared information on the status of plant health in their regions, analyzed challenges and opportunities, and provided concrete proposals for future synergies with both NSP and the IPPC community. Several participants expressed the importance of collaboration and funding for the IPPC Regional Workshops, as well as diagnostic laboratory networks. Other priorities were identified in the areas of technology, international standards for phytosanitary measures, capacity building, and transboundary pest control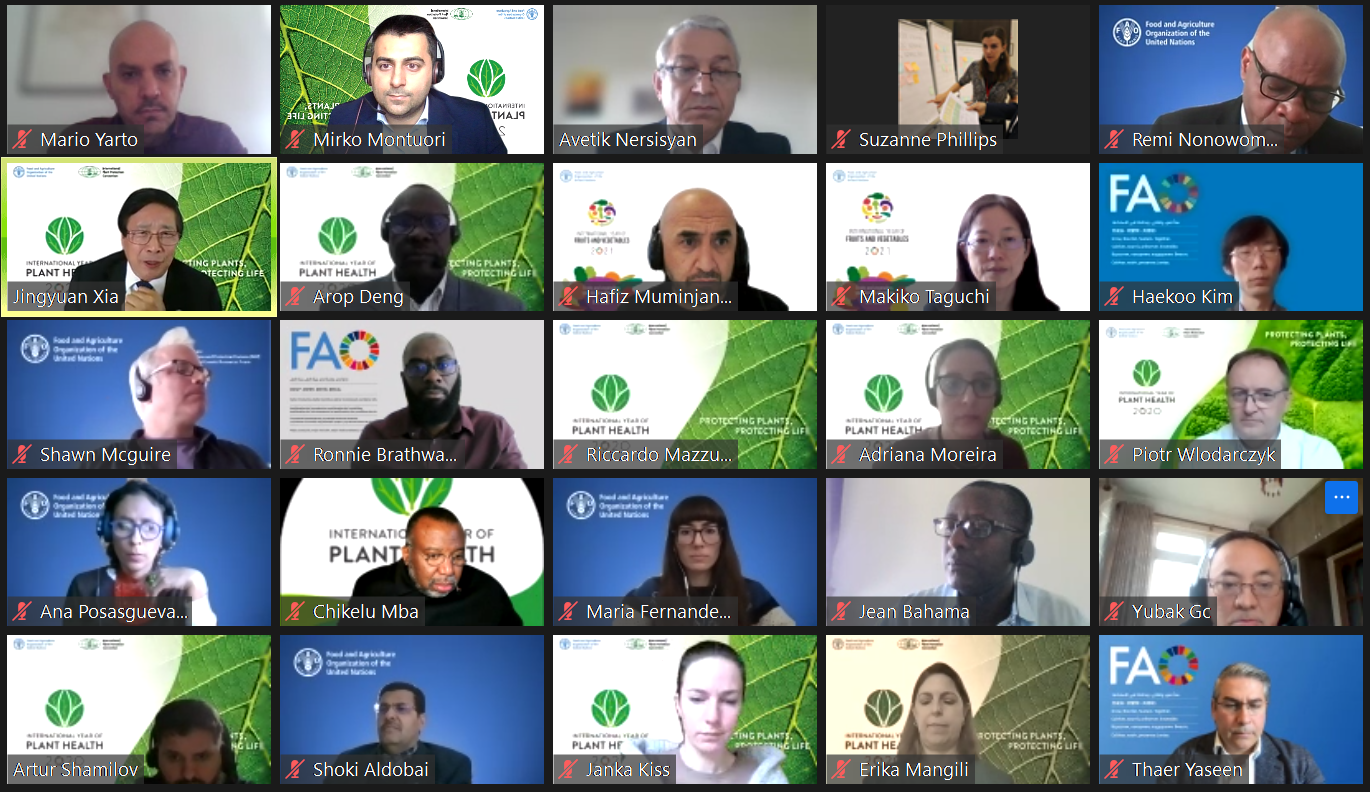 The FAO Plant Health Team was set up in 2019 to strengthen the collaboration and establish synergies in plant production and protection programs. This team, formed around the FAO plant protection officers in HQ, decentralized offices as well as NSP and the IPPC Secretariat, aims for better coordination to help member countries prevent the introduction and spread of pests and diseases and to manage them more sustainably. The first meeting took place in April 2019, in the margins of the 14th session of the Commission on Phytosanitary Measures (CPM-14) and allowed identifying concrete ideas on areas that benefited from more cooperation.