Posted on Mon, 23 Jan 2017, 14:04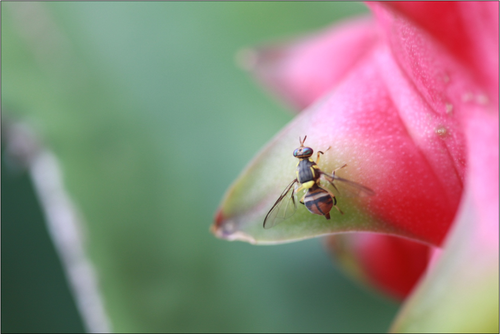 Bactrocera dorsalis on a dragon fruit. Photo credits: Rui Cardoso Pereira.
The world of plant pests is immense. There are thousands of pest species that attack or infest a likewise high number of plant species resulting in crop losses with extremely detrimental effects on food security and poverty reduction. The International Plant Protection Convention (IPPC) aims to help reduce the introduction and spread of plant pests between countries through harmonized measures applied to the international movement of plants and plant products. The task is challenging due to the complexity of the combination of pests and hosts. Recent research confirming that a number of previously separated species of fruit flies are in fact synonymous for Bactrocera dorsalis (the oriental fruit fly) helps to address this complexity. The discovery lessens the need for developing and justifying a wide range of measures against several fruit flies that were previously thought to be different species, and is particularly important for those countries that lack strong phytosanitary capacities.
Bactrocera dorsalis is native to Asia but has been found in at least 65 countries including parts of Oceania and most of continental Africa (in particular sub-Saharan countries). In the African region, it was detected in 2003 and represents a great phytosanitary challenge because of the threat the pest poses to the region's exports, particularly of avocado, banana, guava and mango. It is thought that import trade bans to the region alone are causing around US$ 2 billion losses annually. After introduction, B. dorsalis can easily spread as it has a high reproductive potential, high biotic potential (short life cycle; up to 10 generations of offspring per year depending on temperature), a rapid dispersal ability, high competitiveness with native fruit flies, and a broad host range.
The importance of global stakeholder collaboration to address the challenges of B. dorsalis was underscored by an IPPC-led expert consultation held in 2014 (Okinawa, Japan). Twenty-four researchers and experts met to discuss and share scientific and practical issues related to the development of fruit fly treatments to control B. dorsalis. One of the direct outputs from the meeting was the recent publication of the journal paper "Phytosanitary treatments against Bactrocera dorsalis (Diptera: Tephritidae): current situation and future prospects"1. The paper was a joint effort by a number of experts among which some are members of IPPC technical panels mandated to draft international phytosanitary standards. The paper also highlights the ongoing cooperation between the IPPC Secretariat and the Joint FAO/IAEA (International Atomic Energy Agency) Division on fruit fly-related work.
The paper outlines the economic importance of B. dorsalis in various geographical regions, and lists and describes a number of phytosanitary treatment schedules that have proven effective against B. dorsalis. The paper also suggests future research directed at the development of additional phytosanitary treatments and globally coordinated actions to lessen the economic impact of this invasive species. The research proposals aim to address both the needs of exporting country farmers and industries to trade commodities that arrive at their destination in their intended state and quality, and those of the importing countries to receive commodities free from devastating pests.
The IPPC Secretariat is currently facilitating the development of two standards for B. dorsalis; a diagnostic protocol for the correct identification of the pest and a vapour heat treatment for B. dorsalis on Carica papaya (papaya). In addition, the IPPC Secretariat is leading a pilot programme on surveillance that targets, among others, B. dorsalis. The plant health community may also soon adopt a number of internationally recognized treatments for another highly devastating and economically important fruit fly species: Ceratitis capitata (the Mediterranean fruit fly). In fact, IPPC contracting parties will meet in April 2017 to possibly adopt no less than seven treatments against this C. capitata; a significant step towards the IPPC's goals to facilitate trade while protecting the world's plant resources.
In 2017, the IPPC Secretariat will open a call for new phytosanitary treatments that may be included on the work programme for review and possible inclusion under the International Standard for Phytosanitary Measures 28 (Phytosanitary treatments for regulated pests).
1 Toshiyuki Dohino, Guy J. Hallman, Timothy G. Grout, Anthony R. Clarke, Peter A. Follett, Domingos R. Cugala, Duong Minh Tu, Wayan Murdita, Emilio Hernandez, Rui Pereira, and Scott W Myers. 2016. Phytosanitary treatments against Bactrocera dorsalis (Diptera: Tephritidae): Current situation and future prospects. Journal of Economic Entomology 2016 1–13. Available at: https://academic.oup.com/jee/article/2744806/Phytosanitary-Treatments-Against-Bactrocera?searchresult=1
2 Read more on the 2017 adoption of International Standards for Phytosanitary measures here: https://www.ippc.int/en/core-activities/governance/cpm/
Fruit fly larvae in an orange - Source unknown.
Share on Facebook