Posted on Sun, 01 Dec 2019, 11:00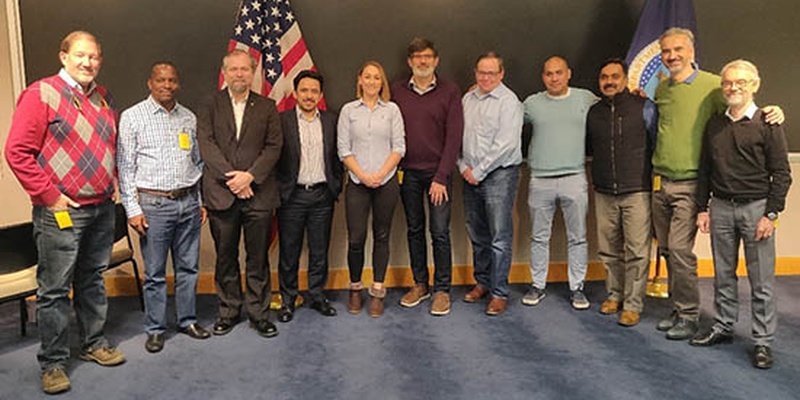 Members of the ePhyto Steering Group and the Project Technical Committee (PTC) at their recent meeting in Maryland, USA © FAO
12 November 2019, Maryland, USA – The IPPC ePhyto Steering Group (ESG) and the Project Technical Committee (PTC) met at the offices of the United States Department of Agriculture's Animal and Plant Health Inspection Service (APHIS) from 12 to 15 November 2019 in Maryland, USA.
Mr Christian Dellis was elected as the new ESG chair for 3 years – replacing the outgoing chair Mr Peter Neimanis. During Mr. Neimanis's time as chair, IPPC ePhyto moved from being a project to a full-time operational component of the IPPC Secretariat. His efforts to make this happen were greatly appreciated and have helped shape the future of electronic phytosanitary certification around the word.
A representative from the United Nations International Computing Centre (UNICC) gave updates on the IPPC ePhyto Hub and the IPPC Generic ePhyto National System (GeNS). The IPPC ePhyto Hub is a centralized system that facilitates the exchange of ePhytos among national plant protection organizations (NPPOs). The GeNS is a centralized web-based system that allows countries without their own system to produce, send and receive ePhytos.
The ESG outlined clear goals and priorities for the next phase of the ePhyto Solution in line with the 5-year strategic plan endorsed by the Commission on Phytosanitary Measures (CPM-14) in 2019. Among the top priorities was testing the channel feature that recently established a connection to the European Unions' Trade Control and Expert System (EU-TRACES). This feature may make it possible to connect to a single window or industry system in the future, something that IPPC Contracting Parties have been requesting in order to streamline their trade processes.
Mr Harm Jan van Burg from the United Nations Centre for Trade Facilitation and Electronic Business (UN CEFACT), Mr Erik Bosker representing the World Organisation for Animal Health (OIE) and Codex Alimentarius, and Mr Simon Padilla from the Standards and Trade Development Facility (STDF) discussed future collaboration with IPPC ePhyto. Indeed, the STDF has just established a new committee, modeled on the ePhyto Project Advisory Committee (PAC), with representatives from the IPPC Secretariat, OIE, Codex, FAO, UNICC and UNCEFACT among others. It was agreed that this committee will help harmonise the work on electronic certification.
As this was officially the last meeting of the Project Technical Committee (PTC), the ESG's Terms of reference will be updated to include members from UNICC which has played a key role in developing the IPPC ePhyto Solution.