Posted on Mon, 27 May 2019, 11:04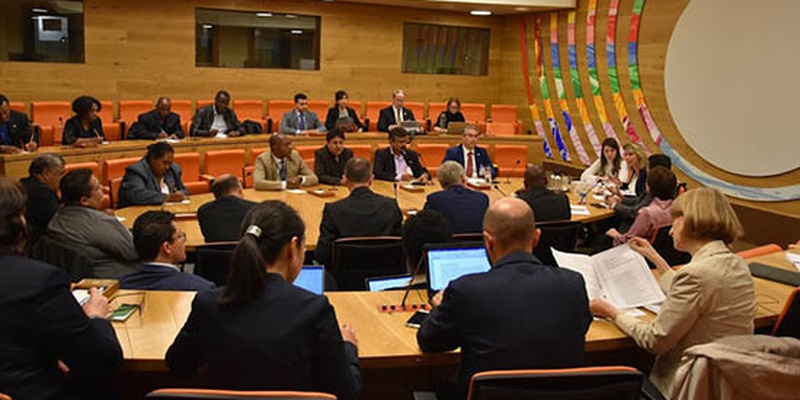 Meeting of 2019 IPPC Regional Workshop co-organizers during the recent Commission on Phytosanitary Measures (CPM-14) session © FAO
27 May 2019, Rome -The organization of the 2019 IPPC Regional Workshops is well underway in seven regions- Africa, Asia, Latin America, Near East and North Africa, Central and Eastern Europe and Central Asia, Southwest Pacific and the Caribbean. All IPPC contracting parties (CPs) from these regions are welcome to attend these workshops. The dates and locations of the 2019 IPPC Regional Workshops are posted on the IPP calendar.
The organization of the IPPC Regional Workshops follows the Guidelines noted by CPM-14 (2019).
The 2019 IPPC Regional Workshops will be structured around the following three areas:
1. Reinforce the capacity of Contracting Parties to formulate productive comments on draft standards and recommendations
Participants will have an opportunity to learn how to provide better comments on the following draft International Standards for Phytosanitary Measures (ISPMs) sent for second consultation:
Revision of ISPM 8: Determination of pest status in an area (2009-005)

Requirements for the use of modified atmosphere treatments as a phytosanitary measure (2014-006)

Draft 2018 Amendments to ISPM 5 (1994-001)

Requirements for national plant protection organizations (NPPOs) when authorizing entities to perform phytosanitary actions (2014-002)
In addition, the following CPM recommendation that was approved for consultation will be reviewed at the 2019 IPPC Regional Workshops:
Safe provision of food and other aid to prevent the international spread of plant pests (2018-026).
2. Exchanging experiences and ideas at the regional level
These regional workshops are an occasion for all participants to exchange regional experiences. Participants are encouraged to discuss capacity development activities of FAO, regional plant protection organizations (RPPOs) and other institutions. They will also find out where they can get more information; and how to provide inputs to the IPPC bodies and projects.
3. Building phytosanitary capacity and raising awareness on various activities of the IPPC Community
Participants will be able to build their phytosanitary capacities and learn more about the activities of the IPPC Community by following interactive presentations and discussing:
The International Year of Plant Health: how to move forward?

Plant Health and Capacity Development

National Reporting Obligations: what are the needs from the region?

IPPC call for topics: what it is needed?

Recent developments of the ePhyto Solution
The organization of these IPPC Regional Workshops is a truly collaborative effort. Each region has its own setting and specific requirements for arrangements and the IPPC Secretariat thanks all those involved in making these events a success.
The workshops are organized with the generous financial support of co-organizers and IPPC partners. However, with decreasing IPPC resources for the regional workshops, additional financial or in-kind contributions are vital and welcome. Countries or organizations interested in contributing resources are invited to contact Sarah Brunel, Implementation Facilitation Officer, at [email protected].