Posted on Fri, 19 Oct 2018, 12:11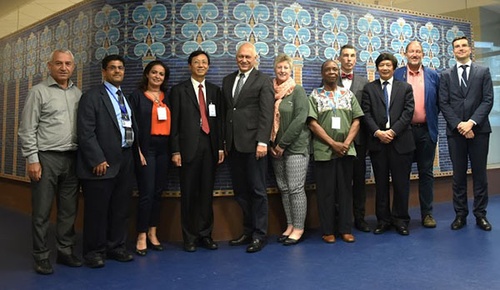 12 October 2018, Rome - The Commission on Phytosanitary Measures (CPM) Bureau met on the 8th and 12th of October 2018 in Rome, Italy to discuss and agree upon important administrative, strategic, financial and budgetary matters of the IPPC. Participants included six Bureau members as well as IPPC Secretariat core team members. The meeting was chaired by Mr. Javier Trujillo (Mexico), the CPM Chairperson, and opened by Mr. Jingyuan Xia, the IPPC Secretary.
Among key financial and budgetary matters, the Bureau noted the Financial Committee (FC) Meeting report, approved the work plan and budget of the IPPC Secretariat for 2020 for submission to CPM-14, and agreed to the revision of the 2019 work plan and budget of the IPPC Secretariat. It was decided that the five-year investment plan of the IPPC Secretariat and the five-year plan on the IPPC ePhyto solution should be revised based on the SPG comments and be ready for the CPM-14 discussion. Funding of travel to CPM and other IPPC related meetings was also discussed and the Bureau agreed to retain criteria agreed upon at the June 2018 Bureau meeting.
With regard to strategic topics, the Bureau agreed with the SPG decision on the IPPC strategic framework 2020-2030 to compile the comments of the SPG by authors and forward it for endorsement by CPM-14 (2019), before the final adoption by CPM-15 (2020). The Bureau welcomed the SPG approval of the report of the Focus Group on Commodity and Pathway Standards. They also agreed to improve the framework based on the SPG notes, and make it ready for approval by CPM-14. The Bureau also endorsed the work of the Task Force on Topics and agreed to go ahead with a joint topic approach for Standards and Implementation.
In regards to preparations for CPM-14, the Bureau reviewed the draft CPM-14 agenda from the June 2018 Bureau meeting and made some updates, and identified a possible Keynote Speaker. The topics to be presented at the special topics session, and side sessions to be organized in relation to the IPPC annual theme for 2019: "Plant Health and Capacity Development", were also discussed.
The October 2018 CPM Bureau Meeting report will soon be available at:
https://www.ippc.int/en/core-activities/governance/bureau/
Share on Facebook