As a spotlight feature for this month, we speak to Francisco Gutierrez, Technical Director of the Plant Health Department of the Belize Agricultural Health Authority, Phytosanitary Capacity Evaluation facilitator and Implementation and Capacity Development Committee (IC) lead for the IC team on IPPC guides and training materials.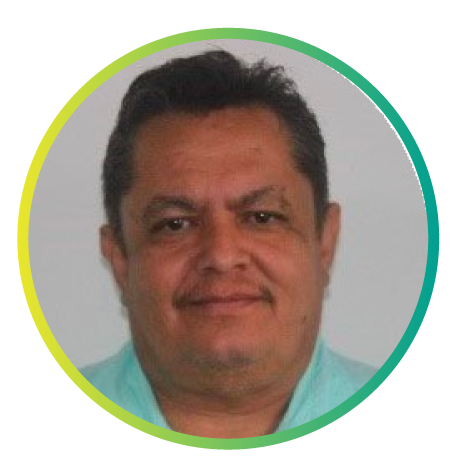 Welcome Francisco. For those who don't know you, could you please briefly introduce yourself, talk about your career and how you got involved in agronomy, working in the Belize national plant protection organization (NPPO) and in the IPPC?
My experience working with my NPPO, the Belize Agricultural Health Authority, started 20 years ago when I joined as Technical Director of Plant Health. Almost immediately, I started getting involved with IPPC-related activities, participating in regional workshops, and reviewing standards. The International Standard for Phytosanitary Measures (ISPM) 15 "Regulation of wood packaging material in international trade" was the first topic I got involved in at the time. I attended the very first session of the Commission on Phytosanitary Measures (CPM-1) in 2006 and the rest is history as they say! Over the years, I served three terms as a member of the CPM Bureau and joined the Implementation and Capacity Development Committee (IC) when it was established in 2019. In the IC, I have served two terms as a regional representative for Latin America and the Caribbean and in my current third term, as an expert. I am a Phytosanitary Capacity Evaluation (PCE) facilitator, currently supporting the PCEs taking place in Eswatini and Zambia. This work is supported under the Strengthening food control and phytosanitary capacities and governance project being conducted in nine African Union countries. I am also the IC lead for the IC team on IPPC guides and training materials. You see, it's been a good run, and a very fruitful one because the work of the IPPC aligns very well with the focus areas in my region and my NPPO.
Could you tell us a little bit more about how capacity development is important for your NPPO?
After 20 years of involvement in the workings of the IPPC Secretariat and the broader community, there are quite a few things that the IPPC Secretariat has done well. The two brilliant strokes of genius for me are the PCE tool and process and the IPPC capacity development materials, including guides and training materials. Unlike other RPPOs, the Organismo Internacional Regional de Sanidad Agropecuaria (OIRSA), the RPPO for Central America, which we are part of, focuses largely on capacity development. In our region, we mirror the decisions on ISPMs adopted at CPM, whilst focussing our day-to-day activities on capacity development. A significant portion of the regional and national budget indeed goes into capacity development rather than standard setting. If you invest in capacity development, it goes a long way to support implementing the standards. From our point of view, training courses and the production of implementation and capacity development (ICD) materials, really helps our NPPO to increase awareness and by doing so, also develops our capacities. If we're all working from common materials, we can move in an aligned direction within our NPPO and in the region. When a new person joins my team, I immediately tell them about available ICD materials, especially IPPC guides, that they should look at. I find these concepts brilliant.
And how does your team use these IPPC implementation and capacity development materials?
The plant health department handles implementing all key aspects of my NPPO. This year we're going to organize a seminar and the essence will be guides and training materials. The NPPO staff refers and uses these ICD materials regularly but mostly on an ad hoc basis. We would like to move towards institutionalizing a training programme, with clear requirements for staff to refer to certain materials depending on their area of responsibility. Everybody is invited to access all the materials but we aim to move to a model where it will be a requirement for staff to read and understand the materials that are most relevant to their roles. That is our objective in the medium term.
The first step is for us to institutionalize a yearly seminar where new ICD materials, ISPMs, emerging threats and case studies from around the world will be presented and discussed, embedding the tangible guidance material available within all the levels of our organization.
While supporting the ongoing PCE in Eswatini and Zambia, I have seen the value of the ICD materials. NPPO staff referred to the materials on multiple occasions, including during the initial training phase for the PCE facilitators-in-training course and also on the ground, during the in-country PCE missions.
Are there any other ways that these materials are supporting your staff at a national level on a day-to-day basis?
Definitely! The IPPC guides are of major use to my staff. For example, when a new officer is undergoing training course as risk analyst, he would have already completed the e-learning course on Pest Risk Analysis (PRA), read the material in the relevant guides and started conducting his first pest risk analysis. So, from the outset, thanks to the available ICD materials, his approach is aligned with global recommendations and international standards.
Next, we will embed these materials in the Quarantine team. We actually have an NPPO manual on pest quarantine that needs updating. It will be easier to use the IPPC guides and training materials to update our manual to suit our national needs, without having to reinvent the wheel. The IPPC guides are particularly useful in connecting all the dots and aligning with all the different standards and related concepts, building into transversal phytosanitary themes. I find the more recent addition of the case studies particularly useful. You can see how particular countries deal with specific issues in their own environment and learn from the insights shared.
As the IC lead of the IC team on IPPC Guides and Training Materials, are there any new materials that you're particularly excited about?
The first would be the IPPC Guide on e-Commerce because e-commerce is a subject that as an NPPO, we want to learn to manage properly. We have an agreement with the postal service in Belize; but the big global e-commerce platforms, like Amazon or Alibaba are not operating in Belize yet. We know that it is only a matter of time. As an NPPO, we need to be ready to reproduce the strong quarantine system that's in place for plants and plant products that enter the country by land, goods arriving via our postal service and, in the future, through e-commerce platforms.
Secondly, movement of materials that could spread Fusarium Tropical Race 4 (TR4) is very important to us because of the more immediate threats in Latin America, specifically in the Bolivarian Republic of Venezuela, Republic of Colombia, and the Republic of Peru. These countries are close to the Panamanian border and as such, are a stone's throw away from us.
We have tightened our measures as much as possible at the points of entry. We now have canine units and X-ray machines in the airport. With TR4, it's only a matter of time until it spreads and the only thing we can do is to prepare. Our focus is to build our capacity, through the available IPPC materials, through simulation exercises and through many other workstreams. There are two NPPO staff in Taiwan at the moment, training on diagnosis and molecular and serological techniques for TR4. The new IPPC Guide on Emergency Reponse and Preparedness will help the Central American and Caribbean regions to significantly build their capacities.
And to this end how would you encourage your colleagues in the NPPO, and around the world to join the webinar where these materials will be presented?
We should all mark 19 October in our diaries to attend the webinar. It's an opportunity to become familiar, first hand, with the new ICD materials published in 2022 and 2023. It is also an opportunity to hear experiences from colleagues in other NPPOs on the value and relevance of the materials to the phytosanitary community worldwide.
Scroll up to the top of this interview and register. I hope to see many colleagues connected virtually on the day!
To find out more about IPPC guides and e-learnings REGISTER for the IPPC-led webinar on the 19 October where all new IPPC guides and e-learning courses published in 2022 and 2023 will be presented and Francisco will speak as part of an expert panel, registration link here.