Posted on Mon, 28 Nov 2016, 15:12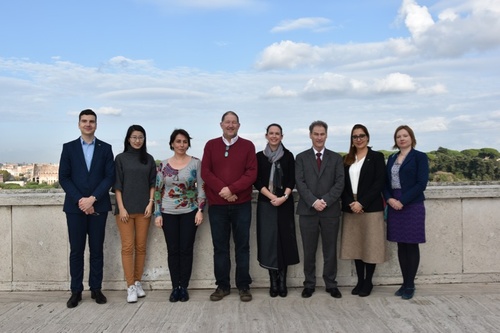 On November 18, 2016, the IPPC Secretariat welcomed Mr. William John Gain, Global Program Manager for the Trade Logistics Advisory Service at the World Bank, for a meeting at FAO Headquarters in Rome, Italy. Mr. Gain visited the IPPC Secretariat for extensive discussions on collaboration between the two organizations in matters of trade facilitation. Task Force for Resource Mobilization members: Craig Fedchock, IPPC Advisor, Marko Benovic, Executive Officer for Budget and Planning, Orlando Sosa, the Implementation Facilitation Unit (IFU) Lead, Adriana Moreira, Standard Setting Unit, Leanne Stewart, IFU, together with Dorota Buzon, Officer in Charge of Coordination and Support Team, and Ketevan Lomsadze, IFU, participated in the meeting.
Previous discussions have focused on developing relationships in the area of ePhyto, the IPPC's project to develop a data exchange mechanism for phytosanitary certificates. This meeting provided an opportunity to address a wider range of possible cooperation activities between the two organizations in relation to trade facilitation.
All units of the IPPC Secretariat participated in the discussions presenting the IPPC achievements in areas of standard setting, standard implementation, communication and advocacy. This meeting was particularly important as the IPPC Secretariat is in a process of planning activities, including capacity development activities, for 2017which was allocated a theme: Plant Health and Trade Facilitation. A subsequent meeting was tentatively planned for early 2017.
Share on Facebook