Posted on Thu, 23 Apr 2020, 07:13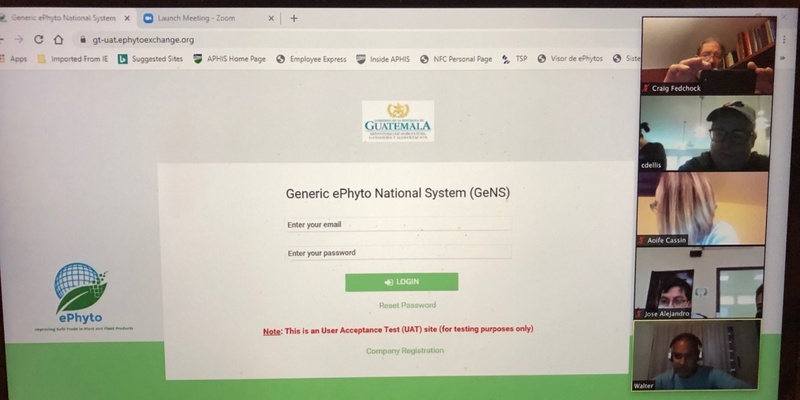 21 April 2020, Rome. Taking full advantage of available technology, the IPPC ePhyto Global Solution team successfully provided the first in a series of training sessions on responsibilities of the individual roles for the ePhyto GeNS system to five representatives of Guatemala's Direccion de Sanidad Vegetal, led by Dr. Jorge Gomez Castillo. The IPPC ePhyto Global Solution Team was led by Lead Technical Officer Christian Dellis, along with Technical Officer Aoife Cassin, ePhyto Steering Group Latin America Region representative Walter Alessandrini, and IPPC Senior Advisor Craig Fedchock.
The first session covered the responsibilities of the NPPO administrator in the GeNS system, and afforded the participants the opportunity to see the system work as intended, to ask questions and prepare for testing in Guatemala.
"We truly appreciated the opportunity to benefit from online training on the IPPC ePhyto solution, as this increases our understanding of the system in advance of full implementation"- said the participants.
Additional tele-training will continue in subsequent weeks covering the other roles for NPPO officials in advance of Guatemala's use in production of the ePhyto GeNS system. At present, eighty-one countries are registered on the IPPC ePhyto Solution, twenty of which are testing the GeNS system specifically and six others (Fiji, Sri Lanka, Ghana, Samoa, Jamaica and Myanmar are in production.
For additional information on the IPPC ePhyto Solution, or to learn how to join, please visit: www.ephytoexchange.org