Posted on Mon, 23 Oct 2017, 13:18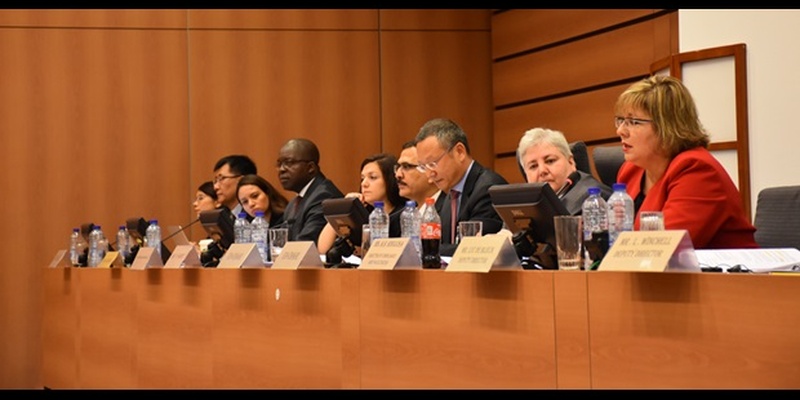 WCO 2017. Meeting delegates discuss the development of tools related to the management of growing E-Commerce.
IPPC Secretariat representative Sarah Brunel, Implementation Facilitation Officer, participated in the 2nd meeting of the World Customs Organization (WCO) Working Group on E-Commerce (WGEC) at the WCO Headquarters in Brussels, Belgium that took place from 10 - 13 October 2017. The purpose of the meeting was to discuss the opportunities and challenges stemming from growing trade in e-commerce from a trade facilitation and control perspective, and to consider the development and refinement of tools and instruments related to the management of growing e-trade. The aim of the IPPC Secretariat representative was to provide inputs from the IPPC perspective, familiarize the audience with IPPC actions taken on e-commerce, and to sensitize delegates on the key objectives, strategies and functions of the IPPC and its standards.
Ms Brunel reported on the activities the IPPC has undertaken to tackle issues arising from the increasing volume and sale of plant and plant products through the internet. She outlined the IPPC progress made so far to address e-commerce and the trade in plants. Actions include an IRSS project study on the Internet Trade in Plants: Potential Phytosanitary Risks, an official Recommendation adopted by the Commission on Phytosanitary Measures (CPM) during CPM-09 in 2014, and a recent Special Topic Session on e-commerce during CPM-12 (2017). She also described additional recommendations made by the CPM Bureau, including the strengthening of engagement with stakeholders, the setting of an IPPC programme on e-commerce, and the production of resources aimed at NPPOs, and other stakeholders.
The WCO Working Group discussed the tools and instruments they have developed so far and expect to release them in the coming months.
During the meeting, delegates actively discussed the possibility where data generated through online sales and captured by e-vendors/e-platforms could be shared with customs and relevant authorities. Delegates agreed that the WGEC would continue to work on the exchange of information between e-commerce operators (E-vendors/E-platforms, and Customs) and identify the data requirements with a view to standardize them and develop associated messaging processes and/or protocols.
The IPPC is committed to contributing to these ongoing efforts and will continue to work together with the WCO on this initiative and on other IPPC/WCO initiatives.