Posted on Thu, 07 May 2020, 12:53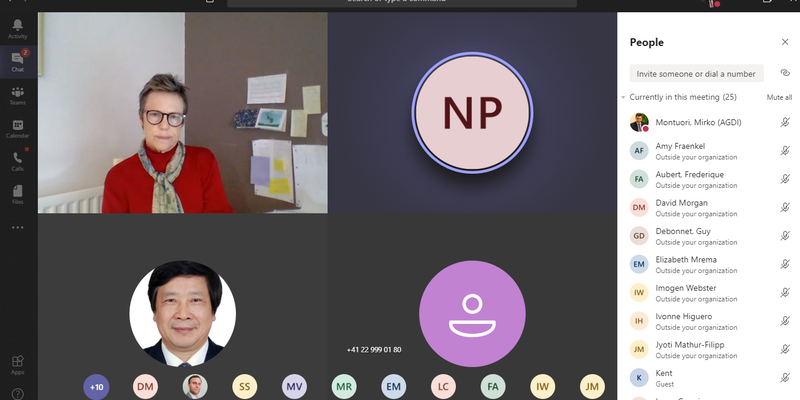 30 April 2020, Rome - A delegation of the IPPC Secretariat attended a virtual meeting of the Liaison Group of Biodiversity-related Conventions (BLG), which is composed Jingyuan Xia (IPPC Secretary), Mr. Avetik Nersisyan (Lead of Standard Setting Unit), Mr Mirko Montuori (Public Communication Officer). The meeting was chaired by the Ms Rebecca Lent, Executive Secretary of the International Whaling Commission, and attended by 25 representatives from all eight biodiversity-relating conventions.
Participants shared their plans and common challenges in view of the global COVID-19 pandemic. They also shared information on the key upcoming initiatives, including the International Day for Biological Diversity on 22 May and the Summit on Biodiversity, whose resolution was adopted by the United Nations General Assembly on 31 March 2020. Some members briefed on the regular meetings of the "biodiversity communication flotilla", and their ongoing work to define key messages and share information in the current year, such as the International Year of Plant Health, and the Super Year of Biodiversity.
Biodiversity-related conventions agreed to extend the deadline for comments on the background document of UNEP-WCMC for the Bern 2 consultation workshop to 11 May. The document provides the possibility for convention secretariats to provide their views in relation to the post-2020 Global Biodiversity Framework. The IPPC Secretariat reviewed the document and is ready to submit comments by the new deadline.
The BLG, of which the IPPC Secretariat is a member since 2015, has been established among the heads of the secretariats of the eight biodiversity-related conventions to explore opportunities for synergistic activities and increased coordination, and to exchange information. To know more about the BLG, please visit https://www.cbd.int/blg/
For more information on the Summit on Biodiversity, please visit https://undocs.org/en/A/RES/74/269 and https://www.un.org/pga/74/2020/03/31/modalities-for-the-summit-on-biodiversity/