Posted on Mon, 02 Mar 2020, 18:02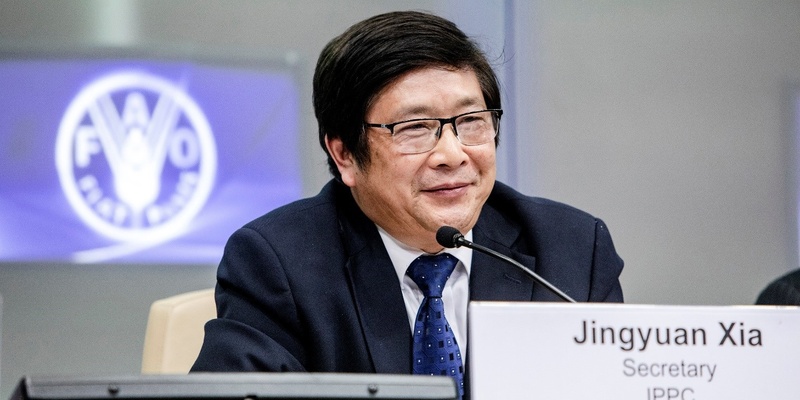 Mr Jingyuan Xia, the IPPC Secretary, at the launch event of the International Year of Plant Health in Rome @FAO
Rome, 27 February 2020 - Mr Jingyuan Xia, the Secretary to the International Plant Protection Convention (IPPC) filmed a video message at the occasion of the International Year of Plant Health (IYPH) 2020.
In his message, the Secretary Xia highlighted the importance of plant health for sustaining the life on the earth, and for contributing to achieving the United Nations Sustainable Development Goals for 2030. He further noted that, each year, damage of plant pests and diseases causes up to 40% of losses of global food crops, and results in economic losses of over USD 200 billion in trade of agricultural products.
Mr Xia recalled the process championed by Finland that led up to the IYPH proclamation by the United Nations General Assembly, and the key role played by the IPPC community in its implementation.
Mr Xia encourage everyone to fully utilize this lifetime opportunity throughout 2020 to participate, organize and promote as many activities as possible to make plant health a cause everyone should stand. He pointed out the key outcomes to be expected from delivering the IYPH would include:
i) a better understanding of plant health's core role by the public and political decision makers; ii) a stronger promotion of plant health research and partnerships; and iii) a wider recognition of the IPPC and its standards, resulting in more sustainable support to the IPPC community.
Mr Xia emphasized that everyone has a role to play: governments, farmers and academia, but also each of us can contribute to plant health, for example by taking care when bringing plants and plant products while travelling, and being cautious when ordering them online or via postal services. Always remember they may spread plant pests and diseases!
In conclusion, the Secretary Xia urges the entire global plant health community to work hand-in-hand for a successful and historical IYPH 2020.
The English version of the video is available at this link: http://tiny.cc/5zfrkz
The video with subtitles in other FAO languages will be available soon.