Rome, 20 February 2023 – The Bolivarian Republic of Venezuela officially informed the International Plant Protection Convention (IPPC) Secretariat in late January the presence of Fusarium oxysporum f. sp. cubense Tropical Race 4 (Foc TR4), a fungus that threatens bananas (Musaceae). Venezuela has since declared a phytosanitary emergency at the national level. This information was shared on the International Phytosanitary Portal, thereby complying with Article VIII 1 (a) of the IPPC text, particularly in reporting a pest occurrence or outbreak. Exchanging phytosanitary information – especially pest notification to prevent further spread – is vital among the IPPC community to effectively implement the Convention.
In 2021, the IPPC Secretariat established an Implementation and Capacity Development Team on Foc TR4. Considering how fast the disease spreads and the widespread damage it can cause to Musaceae plantations, the IPPC team confirmed that TR4 is a global threat for which coordinated action is necessary. The IPPC is in the process of finalizing guidelines for the prevention, preparedness and response for Foc TR4.
The IPPC Secretary met virtually with the Venezuela NPPO, as well as with the country office of the Food and Agriculture Organization (FAO), the FAO sub-regional Office for Mesoamerica and the Regional Plant Protection Organismo Internacional Regional de Sanidad Agropecuaria (OIRSA) on 9 February to discuss how to best support the NPPO in managing the outbreak.
Thanks to the support of OIRSA, the Venezuela NPPO stated that they put in place emergency and media plans in response to Foc TR4 detection. The NPPO reported that they could benefit from additional resources, especially in the areas of diagnostics and capacity building for the numerous smallholders of Musaceae plantations. All cooperators on the call expressed their strong appreciation of the IPPC Secretariat for providing support to the NPPO. The Venezuela NPPO invited the IPPC Secretariat to be part of a task force that will support the country and to join a mission on 5-12 March 2023, from which the IPPC Secretariat will provide recommendations on how best to manage the outbreak.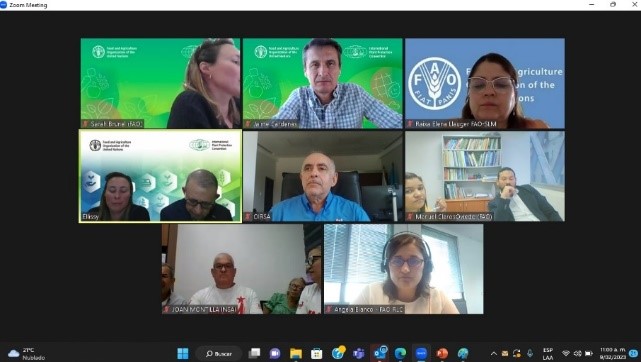 The Venezuela NPPO also requested FAO for emergency funds to contain/eradicate the pest. An FAO Technical Cooperation project was drafted with the support of the task force in the amount of USD 200 000.